Joined

Mar 27, 2011
Messages

505
Points

43
Hi everyone!

I am pleased to offer you the new Hyperion Laser Power Meter, targeted for hobbyist and enthusiast with very limited budget towards non-laser-things :beer:

This is a sale thread, for detailed discussion thread, please go to

>here< Here is the pictures:
And The Vritonuzz Data Logger Interface: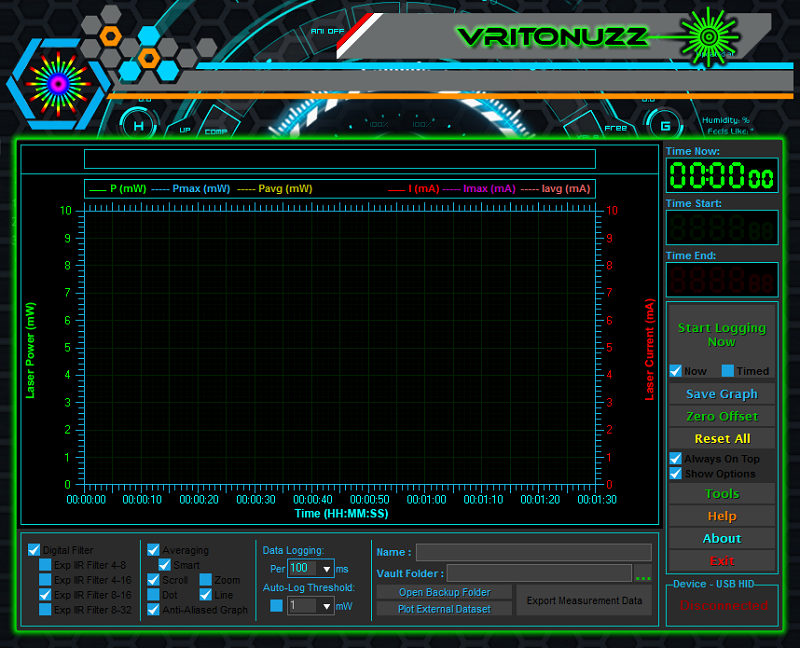 Sensor response time (default sensor 6x6mm):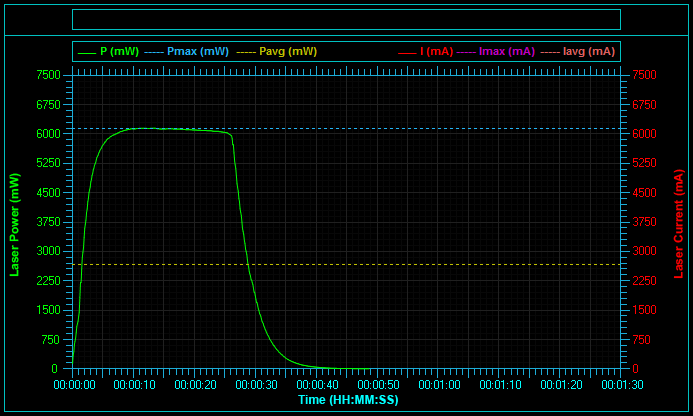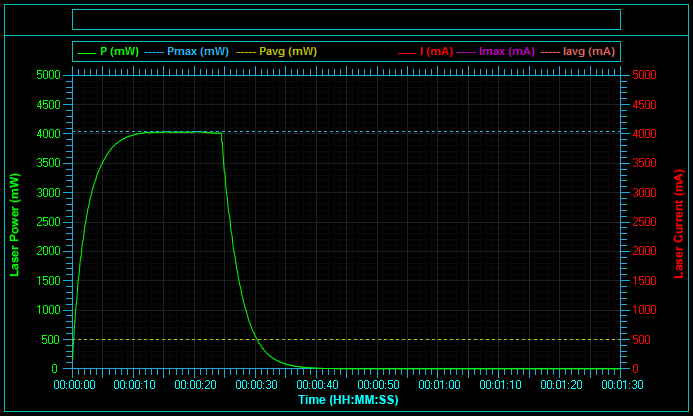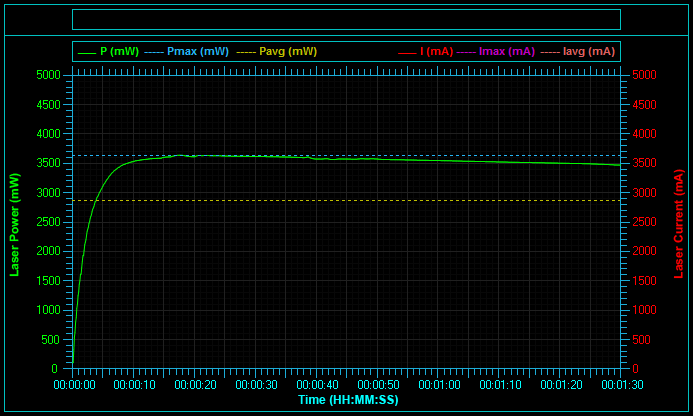 Sensor response time (slower sensor 10x10mm) for comparison:
Technical specification:
Max measurable power:

Hyperion Ag:

6W or 20W

*
Hyperion Cu: Using equal sensor like the Hyperion Ag, but limited to

2000 mW

max.

Resolution: 1 uW**
ADC resolution:

22-bit

, yielding 1.192 uV/bit with 2500mV Vref
ADC vref: 2500 mV.
Uncertainty:

Laser power 0 mW to 4500 mW (0 mW to 15 W for uncoated sensor): ±5%***
Laser power 4500 mW to 6000 mW (15 W to 20 W for uncoated sensor): ±5% + (-10%)***

Sensor area:

36 mm²

high speed sensor

(

default

)
100mm² slow sensor.

Options for sensor coating:

HPCVD micro carbon deposition over high temp resistant matte black paint (for detecting low power laser).
High power + high damage threshold carbon coating at least

480W/cm²

(

default

) , tested by focusing

3.6W

multi mode laser into

0.5x1.5mm spot size

.

Results

:

no damage, smoke, or trace at all

.
No coating at all, yielding broadband rejector instead of broadband absorber with

the highest damage threshold

among the three (damage threshold of alumina ceramic Al²O³). Therefore producing higher measurable power albeit at worse resolution (13 uW).

Sensor response time 0-90%:

~4-6 sec

****
Sensor response time 0-100%:

~10-12 sec

****
Display:

Hyperion Ag:

High contrast LCD

.
Hyperion Cu: Standard LCD.

Hardware interface:

Delta-reading (software zeroing).
Peak detector.
Brightness.

Digital filter

.

Easy re-calibration

(only for HyAg).

Vritonuzz

data logging software (

download v1.2.0.159 here

):

Freeware for all

,

support various protocol

.
Tools including

divergence calculator, relative perceived brightness calculator.

Intuitive interface.
Configurable x-axis graph with zoomed or scrolling.
Auto-scale graph.

Various digital filter.

Smart averaging.

Delta-reading (software zeroing).
Peak detector.
Configurable logging time.
Auto-logging trigger by power.
Delayed logging (5 sec).
One-click snipping graph.
Export data to spreadsheet format (

.xls

) and already nicely formatted too.

Plug n play without unnecessary effort like selecting COM or installing driver

.

The board can be calibrated to read from ophir sensor directly, making this board a functional data logger board.
Price:
Hyperion Argentum:

$150

****
Hyperion Cuprum:

$75

****
Hyperion Cuprum can be upgraded to Hyperion Argentum, you only need to pay the rest, and you'll get activation code to unlock the limit and easy-calibration feature
Warranty:
Please read all the precaution here carefully before buy
Shipping:
Ships to worldwide.
EMS Tracked, equal to USPS Priority Mail Express International™ (and is track-able via USPS website),
delivered within 3-7 business days
(maybe more depends on the situation).
Shipping cost to USA and most country is
$25
Shipping cost to Canada & most European country is about
$40
Shipping cost using registered airmail is $12 to most country and $17 to EU country
,
delivery time is longer than EMS and can reach ≥30 days!
Shipping cost within Indonesia is
FREE
(in case you or your friends is currently on vacation here)
Manual:
User manual for both hardware and software is inside the
Vritonuzz
software.
FYI:
EMS Destination From Indonesia
Contact:

*Depends on the sensor and coating. Linearity tested up to 4.5W with coated sensor or 15W for uncoated sensor, above this level the reading might skew to lower value (about 10%) due to sensor's Vout saturation.
**Depends on the sensor, coating, and digital filter.
***Approx. value from the reference sensor only, not including the uncertainty of the reference sensor towards NIST.
****Using default sensor. Cheaper & slower sensor are available upon request.
Last edited: