Well-known member
LPF Site Supporter
Joined

Jan 29, 2014
Messages

12,967
Points

113
Hello,
Has anyone here taken a C-mount 808nm laser diode and overdriven it much? I have one rated to 4.4 amps 4 watts CW and want to push it to 6 amps. Would that likely kill it or substantially shorten its normal life?
Why? Mo-green power! Sharing the story for those who might have dead high power pointers and want to do something similar:
I recently took a 250mw 532nm laser pointer I've had for three years which was advertised on aliexpress to be 2 watts (I think I paid 250 for it):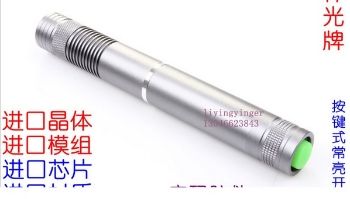 50000mw green laser pen on Aliexpress.com | China laser sellers often LIE stating outputs several times higher than reality
...and put the battery in backwards, killing it, stupid to design it that way, a blocking diode would have prevented the problem
- Moving forward after murdering my pointer and checking its C-mount 808nm laser diode, I found it was still good, but the driver toast, the parts for it wiped of identifying markings. Instead of trying to find another high current driver to fit or toil trying to determine the unmarked parts to fix it, I modified it some (extreme understatement), removed the 2.5 watt (output measured at 2 VDC) IR diode and replaced it with a FAC lensed C-mount 4 watt laser diode, remounting it in one of these:
808nm Housing Case Mount for Laser Diode C Mount Good Cooling | eBay
Fortunately, the part of the laser pointers head (inside part, now removed) which has the vandate and ktp crystal inside it had the right OD size to fit into the above laser host so it could take heat away from it. However I couldn't use the original section of the pointer which contained the C-Mount laser diode because it's OD didn't match the new host, but the new hosts C-mount section fit together with it fine.
After putting the thing together the new hosts lens wasn't right (expected), I couldn't focus, so I had to remove the concave-concave expander lens from the output of the laser module to reduce the beam width to something easier to adapt to the optics I had on hand. However, after removing the concave lens I was pleased to find I didn't need to find another collimating lens because the one which came with it would then make a tight enough beam, but at increased divergence, a problem I intended to solve using a telescope.
Testing, I pushed the IR diode above its 4.4 rating to 5 amps and was able to get about 550mw out, now I'm cooking with green
...maybe risking the laser crystals inside but no failure yet! Adding a 8X beam expander I recently bought on ebay (thank you electronic badger for the link) the divergence was then taimed and what a beautiful beam it puts out, the divergence appears to be low now and I can put a bright green spot on the underside of clouds at night
Expander:
However, not willing to leave good enough alone, I'm wondering, how hard can a 808nm laser diode rated for 4.4 amps of CW output be driven without shortening it's life too much? I mean, I probably won't put a whole lot of time on this laser pointer over the years, so if it's life is reduced to 50 hours, that's probably more than 2 life times worth for me. Any idea if I can drive it to 6 amps very safely? Next, I will be crying I fried my ktp crystal, I know, but wondering.
Oh, I might as well add, I'm now driving the unit with a pack of size C alkaline batteries and this voltage regulator:
http://www.ebay.com/itm/LED-DISPLAY-DC-DC-POWER-CONVERTER-D12S-100W-BUCK-/161051476129
It is not constant current, but I can watch the amount of current draw to keep an eye on it, so far, the diode is behaving and not drawing additional current when it warms up (very little, anyway).
My 550mw ghetto pointer:
Nevermind the 2.4 volts shown on the regulator, the power leads to the diode are small, a bit of voltage drop there.
Next is to have a host built so that everything can fit into it and a constant current regulator.
Last edited: