Joined

Dec 17, 2010
Messages

1,144
Points

48
Hi Everybody!! :wave:
For Sale: 2x "1.4-1.5W Handhelds that I have named the "Stealth Twins"
Both Sold!!
The lasers are in a black Aurora C6 host and require 2x 16340/CR123A cells.
They are powered by a linear drivers that are running at ~ 1.45A.
They are equipped with AR-coated glass lenses. (Installing a G1 lens will boost the output another 100mw+ or so.
)

The really cool part of these lasers is the focus adapter.
I machined the adapter out of a black colored polymer called Delrin.
Delrin is an ultra high molecular weight material that is very impact and wear resistant. :tinfoil:
With the adapter machined into the shape of a rocket nose cone, it gives the host a very sleek, stealthy look.
Hence, I dubbed the host the stealth.

I liked how well the first one came out, so I ended up making a second one.

Hey, the only thing better than one sleek, sexy body is her twin in the other hand....right?
:crackup:

The pics: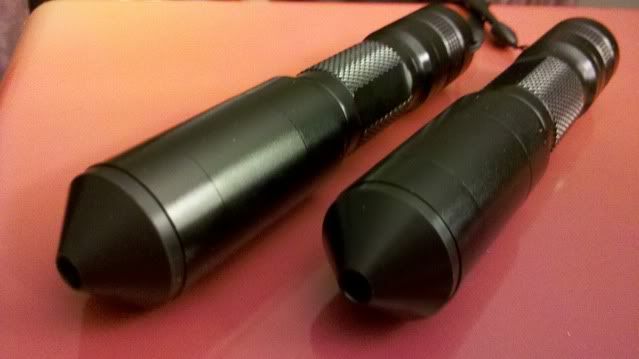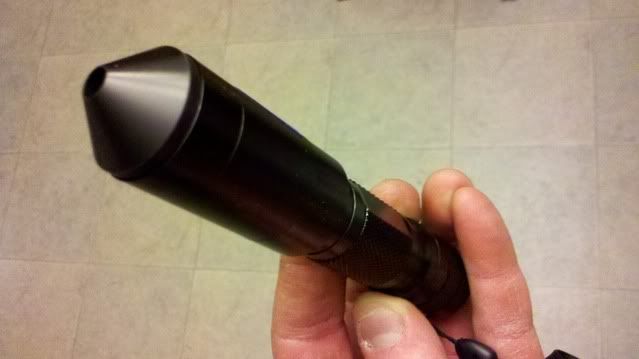 One hit

1538mw

and the other hit

1521mw

.
First come first served, so the first buyer picks which one they get.... hmm wonder which they'll pick...:evil:

$149 each shipping included within the CONUS.

If interested in international shipping, please contact me.
These handhelds have a 2 month warranty on the diode, driver and switch.
PLEASE DO NOT ATTEMPT TO OPEN THE HOST!!
Opening the host or apparent abuse will void any warranty.
Last edited: