If anyone has been following Knimrod's DIY Laser Power meter thread in the experiments section, I got in on 3 of the circuit boards out of his first run.

I made myself a meter, and decided to try and sell 2 others to help me offset my costs.

I have 2 styles and only one of each will be available.

Both use genuine Coherant Thermopiles, and they have been as accurately calibrated as I can make them!

All three track a KNOWN 532nM Laser's power graph amazingly close!
They have been tested at 405nM, 650nM, 660nM and 532nM.

They have all had their gain set by individual measurement of the components to make them as accurate as possible.

First is this model: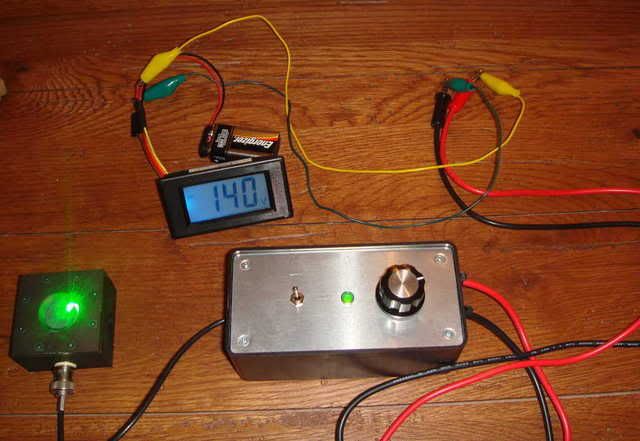 The thermopile is pre-tapped to connect to a Camera Tripod.
The tripod is not included, and not needed, but it makes mounting the thermopile very neat and clean
.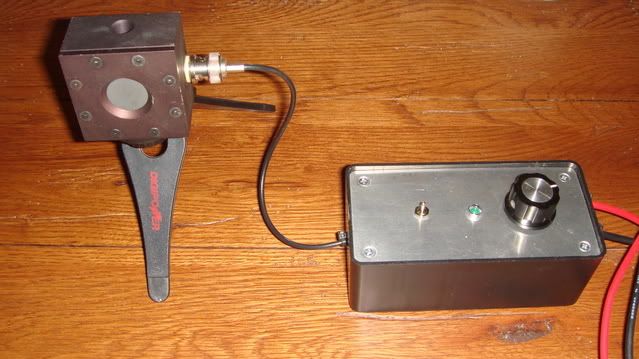 This model has no digital display.
Rather it is pre tapped with Bananna plugs to fit your own Multimeter!!!
Just set your Multimeter to mV and read your laser's wattage direct!!!
.100 Volts = .100 Watts or 100mW!!!


( Excuse the Mini Display meter I placed in there, I needed to show that the meter WORKED!....I managed to break my favorite Multimeter last week, and I am still waiting for my new Fluke 179 Tru-RMS meter to arrive!!!)

This Power meter has a Power switch, Green LED Power ON indicator, and has the ability to Zero-Out- the meter before taking a reading for the highest accuracy!

Asking price is 75 Dollars Plus 5% paypal (If used) and shipping.
Buyer specified shipping mehthod.
[highlight]SOLD to SuperNova....CONGRATS![/highlight]
Secondly,
I have this Lovely meter.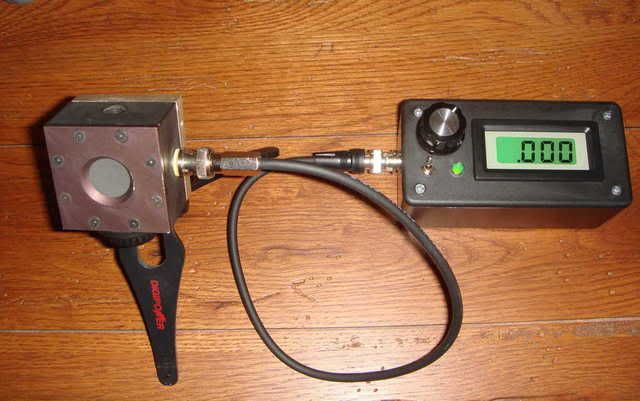 Please note:
The meter pictures above is my PERSONAL METER..the one I am selling IS an exact CLONE of this meter!
Again the tripod pictured is my personal tripod..it is NOT REQUIRED and NOT INCLUDED, Though It does make using the meter more enjoyable.
Please notice that this meter also has Power switch. Power on LED, and the digital display is Backlit GREEN.
The meter also has Zero-out abilities and has BNC disconnects at the meter box as well as the thermopile.
This gives the user the ability to use a longer cable if they want to mount the meter in a workstation and have the thermopile further away from the meter box!!!

Included is a @16" cable

Asking Price will be 120.00 Plus 5% Paypal (If Used) and shipping.
Buyer decides shipping method.
[highlight]SOLD TO XARYLX[/highlight]
Payment terms will Be (In order of preference) Cash, PayPal, Money Order, or Bank Check.
These are WONDERFUL meters..and to tell the truth...I'm loosing money selling them at these prices compared to what I have spent on making them!
Oh....and lastly.....Batteries are included!!!....each meter will have 2 fresh Energizer 9V Alkalines ready to go!!
One person has already expressed interest in the "Use With Your Own Mulitmeter" model, though he has not comitted.
Therefore I consider the meter still up for grabs.
Thank you for looking!!!
LarryQ