Whenever I put the batteries in it automatically turns on >.> (I am using 2x 16340). Does anyone know why. It is a modified end cap on the Sky Ray Sr5.
I have finally collected all my parts to build my first 445nm 9mm Laser Pointer:wave:
Anything I'm missing or should change let me know.
(Update as I go)
Parts List w/Supplier
9mm Diode w/ 2.2a X-Drive - DTR
2x 16340 -Zerolaser
2x 18350 AW - Lighthound - on the way
Sky Ray Sr5 Host w/ X-Blank installed & Modified End-Cap - Zerolaser
Flux and Laser Wiring Kit - Flaminpyro
Ceramique 2 (Inbetween Module & Heatsink)
Arctic Silver 5 Alumina (Inbetween Heatsink & Host)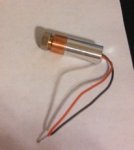 445nm 9mm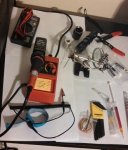 The whole family
Sky Ray Sr5 with X-Blank Driver & Host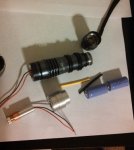 Everything taken apart.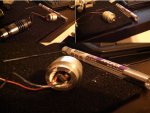 I managed to get Ceramique 2 everywhere, good thing it's non-conductive...
Heat shrinked my soldering job, fingers crossed that everything works as planned.
*Beam Shots up next...
Last edited: