Joined

Jan 12, 2008
Messages

3,059
Likes

144
Points

63
It's been a while since I posted some pics...
Optical trapping, it does this so easily with this lens. If any lager particle happens to float by it gets caught!
Shorter focal point lens from my dead x-125.
Add the fiber, just before the focal point. The fiber is from some sort of home equipment (dunno what) that I cut and treated the ends myslef.
The raw output at the other end of the fiber.
Collimated by an aixis lens.
IRL its not diffused like in the picture, it's a perfect filled circle with no diffused edges.
Here I added a long focal point lens from a video camera, and collimated the beam even more. Still pretty divergent tho.
Destroying a CD.
Just some different colours. *clickable*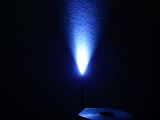 Two short vids.