Joined

Nov 2, 2012
Messages

617
Likes

104
Points

0
I received my five-dollar 532 modules from Fasttech shortly before Christmas. One died immediately. Or rather, the crystals died. The 808nm diode works fine. The other two seem OK, more or less.
Turns out they will need heatsinking, but not the sort I expected. One component on the board, a D882 transistor, gets very hot, very fast. It gets hot even faster when you pot-mod these and turn up the current. The D882 is the only component that gets hot. Everything else stays cool.
Note that even if I don't pot-mod the laser, the D882 still gets hot, just not quite as fast. It will still need heatsinking.
I have some 4-gauge solid copper wire that I can use to make a heatsink, really thick stuff. I figure I can cut off a 1/2" or so and file/sand it into a block that will fit in the host, and then thermal epoxy it onto the D882. The idea I have is shown in the photo below. The D882 is marked with the red arrow. The yellow rectangle is the approximate size and location of the heatsink, fit as best I can given the constraints. The blue arrow shows how the blue resistor would be moved (bent) out of the way.
What are your thoughts on that; that's pretty much how one would go about making a custom component heatsink, isn't it? The only real issue will be to make sure nothing gets shorted out, but I can use some lacquer or "liquid electrical tape" to cover up exposed metal / component pins. Solid idea?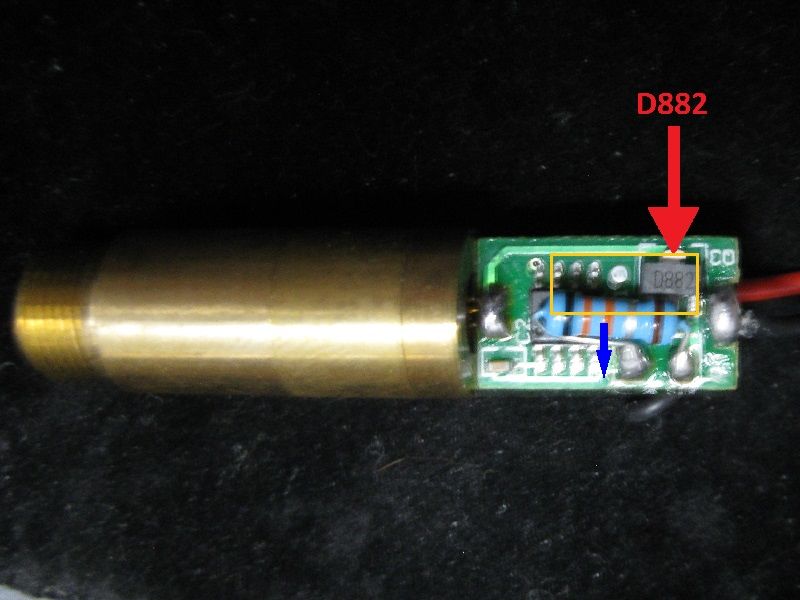 Last edited: