Joined

Nov 27, 2008
Messages

863
Points

18
Well, it looks like the time has come - the laser collection has grown to the point where I really need to sit back and take stock in which lasers I really USE and which ones might be better off in a home where they'll get the love and attention they deserve...
For Sale, Laserglow Hercules SN# 7061015 - the 2 output graphs below show the output with battery power at the "mid" setting and also with external DC input at "high" setting (not all the way up, but close) - After speaking with Justin from Laserglow and cross-referencing the SN, etc I was able to obtain the original test specs at 503mW peak and 445mW avg, however the laser was originally ordered as a 350 so it was shipped from Laserglow turned back to 368/443mW (a common practice for LG with the Herc as some of them come through as powerful as the one Justin has on his desk right now - 700+ mW peak, YIKES!!!)
Graph 1 (battery power, mid setting as shipped)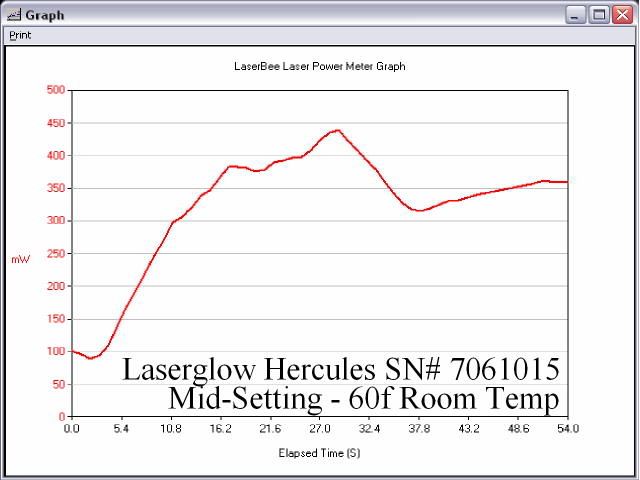 This graph is with external DC in with the laser turned up to a lower level of what would be considered the "high" setting: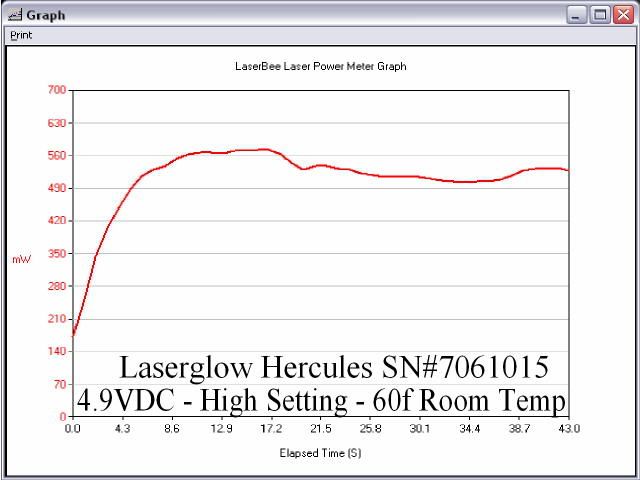 The beam is a perfect, unwavering TEM 00, and divergence is beautiful, this obviously has ZERO trouble lighting almost anything across the room (white matches, etc) - there really is no need to get into the capabilities of this beauty as if you are seriously considering buying this, you already know what you are looking at. This laser is the new-style with the 2.5W Pump Diode (per Justin) and includes the TTL and DC input connectors as shipped with the laser. Here's a pic next to some other toys, to give you an idea of just how massive this thing is:
The condition of this laser is excellent, with the following exceptions: The case has several small dings and scratches (very minimal) from doing its job protecting the laser and the handle has been replaced as I didn't trust the original, and I lost the interlock key some time ago ($28 for replacement keys from LG) so I jumpered the grounding lug on the tailpiece to the battery spring (the grounding lug is threaded so no solder, etc was used - it could easily be returned to normal if you obtain keys using a small phillips screwdriver). With those exceptions, this laser is excellent, and will make an impressive showpiece for any collection.
Now, onto the good stuff - the price. $1300 shipped insured via Priority Mail in the USA, PayPal accepted or cash on pickup (I'm located in SE Wisconsin if anyone in the area is interested in this laser). I could possibly be tempted with partial trades if the right RGB scanner system came along (must be DMX capable and not homemade as it would be incorporated into our Laser Shows). This price reflects roughly $1000 savings off the price of a new 350, and obviously the test results from both Laserglow and myself prove that this is no "normal" 350, so I don't think I can budge much on the price (although as I said, partial trades will be considered provided you have power graphs and are willing to stand behind them.).
I have a show this afternoon so I will be unable to answer PM's from about 3PM-9PM CDT today, but will answer any and all questions as they are recieved, if you are considering a different high-powered laser in a GB or ??? keep in mind this is a laser with world-class specs and internal cooling, so the duty cycle is nonexistant - also this system has TTL modulation built-in as well as the ability to use an external DC input to save batteries, etc when running long-term experiments, etc. This is NOT a toy, and I will not unfortunately entertain offers from anyone under the age of 18, sorry!