Joined

Feb 5, 2008
Messages

6,296
Points

83
Alright guys, instead of few threads scattered here and there, I decided to compile a big master sales thread, so moderators can delete the rest of my threads in Sales and Pro Store section. Formalities out of the way, let's begin.
Quick info table:
All prices are US dollars.
Ultrafire C3 heatsink (direct diode pressfit only)
= $8
Guidesman (and clones)(12mm module version only)
= $18
Ultrafire WF-501B heatsink (12mm module and direct pressfit)
= $15
Aurora/Cree C6 (12mm module and direct pressfit )
= $10
Powerlight B50 heatsink (12mm version only)
= $12
"Classic style host"
= $17
SA-305 SAiK heatsink (12mm version)
= $22
Ultrafire C1 heatsink (12mm version)
= $15
Ultrafire C2 heatsink (12mm version)
= $20
Cree Q5 heatsink (12mm only)
= $10
Ultrafire XM-L2 heatsink (12mm only)
= $20
Custom heatsink work: see details below.
Free worldwide shipping.
Accepting PayPal and Bitcoin!
For bitcoin prices, they constantly vary according to dollar/BTC exchange rate. You will be billed for a BTC value that is equivalent to dollar prices at the time of your purchase.
All details and pictures below.
Heatsinks
***********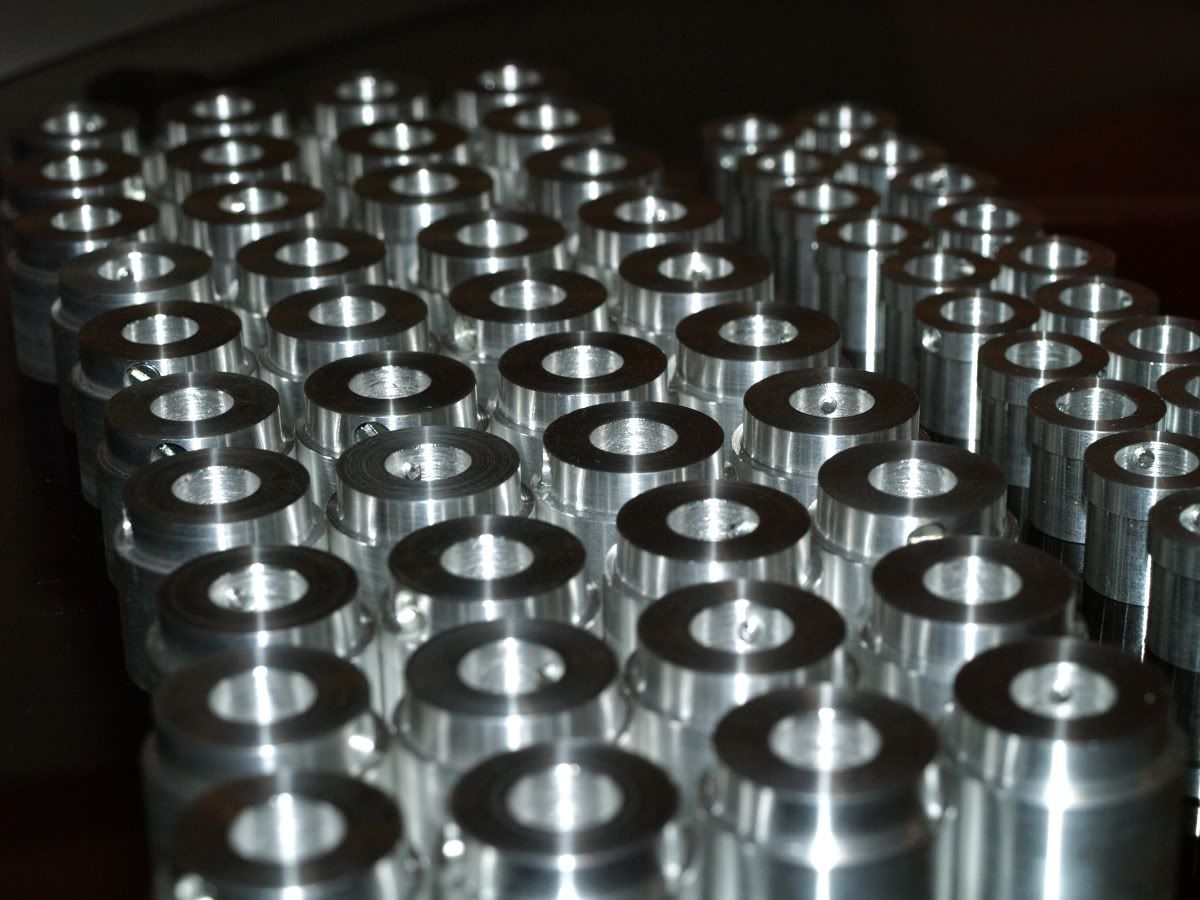 I have several designs already up for sale. These include:
Ultrafire XM-L2 heatsink (12mm only)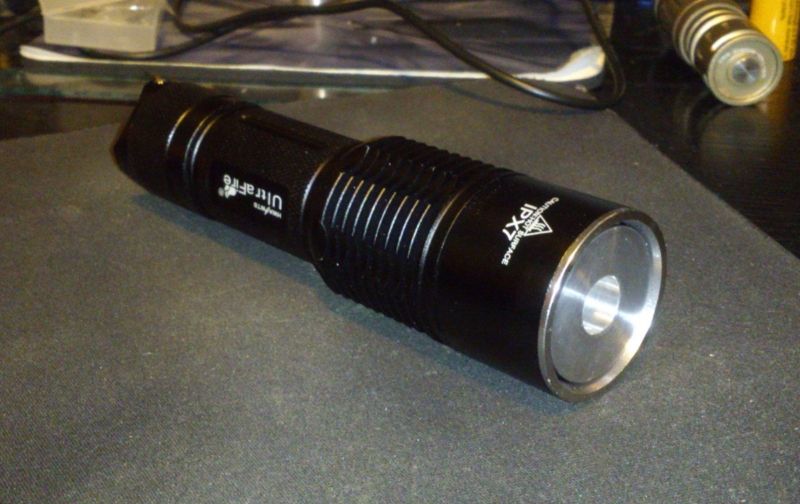 XM-L2 light that can be bought from GearBest, here:
http://www.gearbest.com/led-flashlights/pp_5499.html
See my review for a coupon code for additional discount:
http://laserpointerforums.com/f52/f...best-ultrafire-xm-l2-1x26650-light-91443.html
Heatsink and head assembly are pretty massive. My personal favorite.
Installation instructions:
Head comes apart in half - remove the glass and reflector assembly,
- Then, desolder two wires to the LED emitter,
- From the other side, remove the driver by unscrewing it's pill from the head.
Replace the driver with your needed one, and install your laser module with heatsink from the front.
Price is $20 each.
*************************************
Ultrafire C3 heatsink (direct diode pressfit only)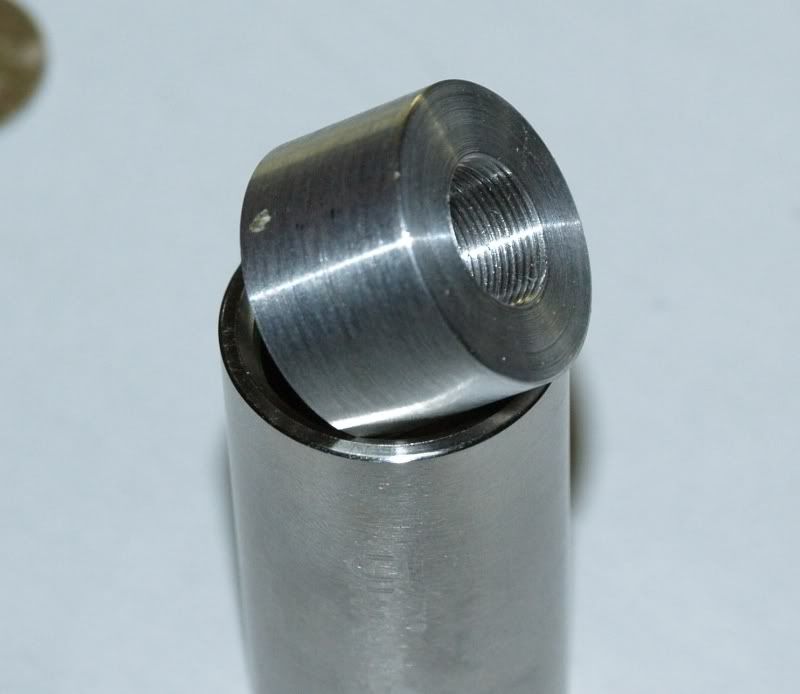 Build is not complicated. Only additional metal work needed on customer's end is drilling out the existing brass pil so wiring can be ran from diode to driver's seat.
Price is $8 each.
**********************
Guidesman (and clones) host heatsinks (12mm module version only for the moment)

Note, you can get the host and heatsink as kit over at CajunLasers:
Laser Host Kits : Cajunlasers Store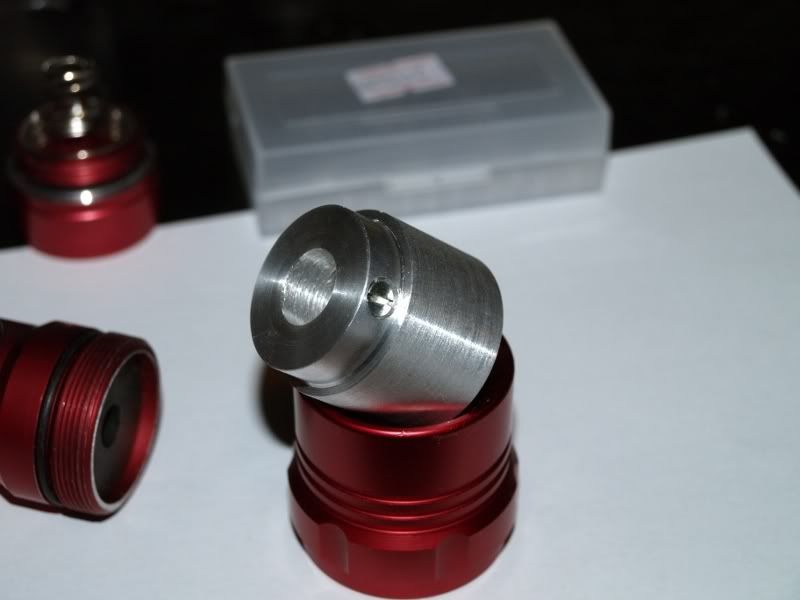 Work on customer's end includes removal of LEDs from their board if the board is to be used as a contact PCB (holds long spring needed to reach the switch's terminal).
Optional service of modifying the tailcap to lenghten the battery room to accept 18650 and 26650 cells, this service is free with purchase of heatsinks provided you send the host to me.
Price of heatsink: $18 each
************************
Ultrafire WF-501B heatsink (12mm module and direct pressfit version)
Note: You can get these heatsinks from RadiantElectronics.com website, which are US based seller and if you're from US, these will arrive much faster to you.
Hosts & Heatsinks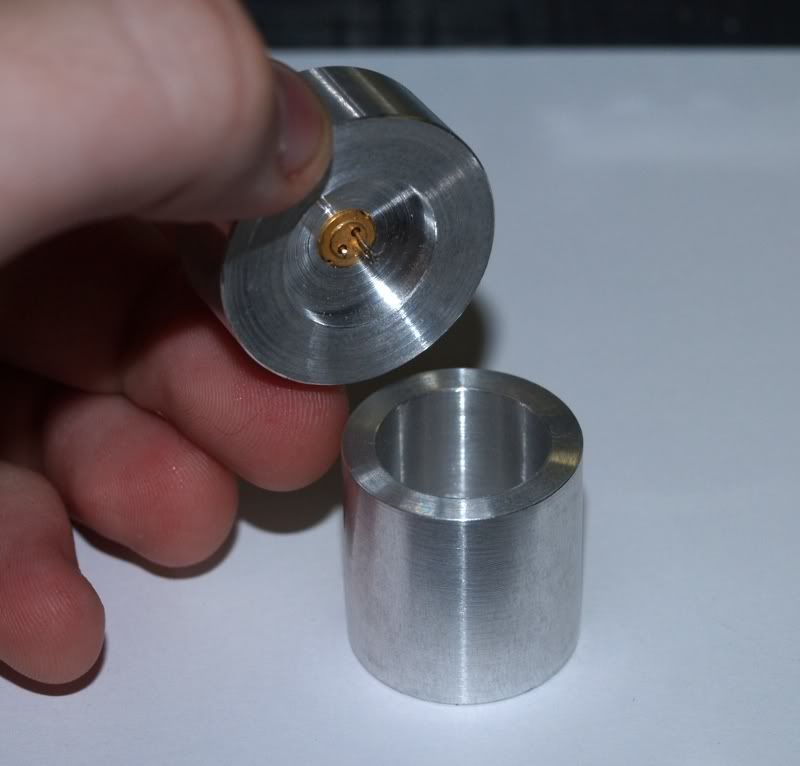 Direct pressfit version is a unique dual-component heatsink held together by two parts of flashlight's head being threaded together. Forward part holds the diode and lens, rear part provides additonal heatsinking mass, mechanical support and electrical connection to the host via battery barrel's thread edge, which is sanded off.
12mm version is essentially the same in mass, but it's 1 piece, not dual component.
If you use my heatsinks for these hosts, you need to knock out small plastic seperator which seperates the battery from drop-in module area, this is easily done by a few good whacks from inside battery barrel towards outside. This plastic bit will prevent the heatsink from touching the case connection on the battery barrel.
Advisable to use 17mm contact PCB on the rear of the heatsink for battery contact to prevent unwanted stress on driver and/or diode.
Price: $15 each (both versions).
**********************
Aurora C6 (both 12mm module and direct pressfit versions)
Note, you can also get these heatsinks on:
Hosts & Heatsinks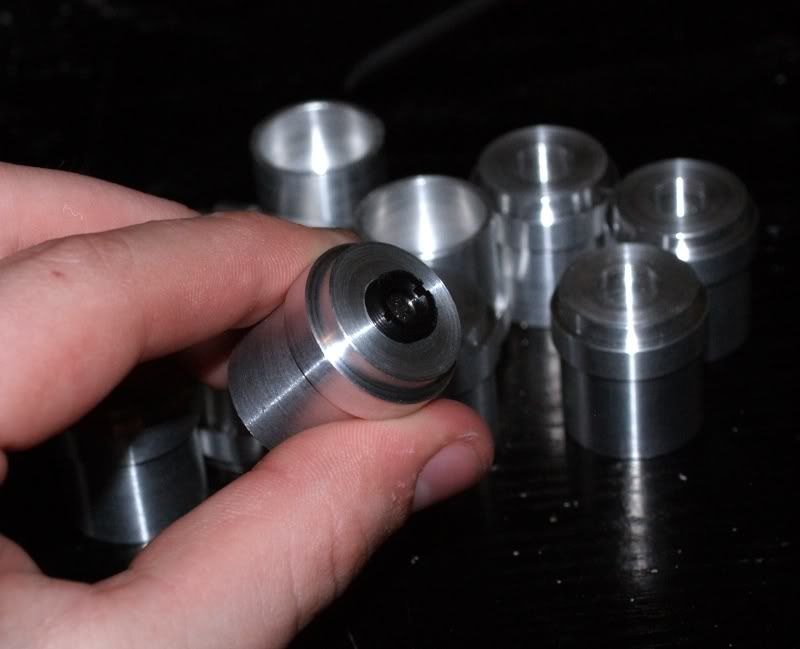 Direct pressfit version with lens threaded in.
12mm version almost the same from outside, except there's no extrusion out the front of the heatsink past the lip.
These heatsink designs require you to use the host's driver/emitter pill for case connection. Advisable to use 17mm contact board and pill for battery connections.
Note, direct pressfit version's diode pocket is a *little* bit deeper inside the heatsink, make sure you're not a begginer in soldering as soldering on diode's pins will require some skill and pointly solder tip.
Price: $10 each (both versions).
**************************
Powerlight B50 heatsink (12mm version only):
Note: You can get the heatsink along with accompanying kit at CajunLasers.com:
Laser Host Kits : Cajunlasers Store
Has a seat for 17mm contact/driver board. Build is not complex, but may prove difficult for begginner's due to host's size and not much space inside the host.

Price: $12 each
*************

"Classic style host",
sold at Rayfoss and other retailers, is originally a DPSS-module intended generic host stripped of it's guts and sold as-is. This unique dual component heatsink enables you use it with direct diode builds.
Can get host here:
www.rayfoss.com
Heatsink:
Build is a bit complicated, since the host was never intended for direct diode builds (instead, for focusable DPSS green builds, which is entirelly different matter regarding inner dimensions).
First, get rid of the lens adapter inside the host (big black holder made to thread inside head part). Front part of this heatsink, which holds the diode, goes in it's place.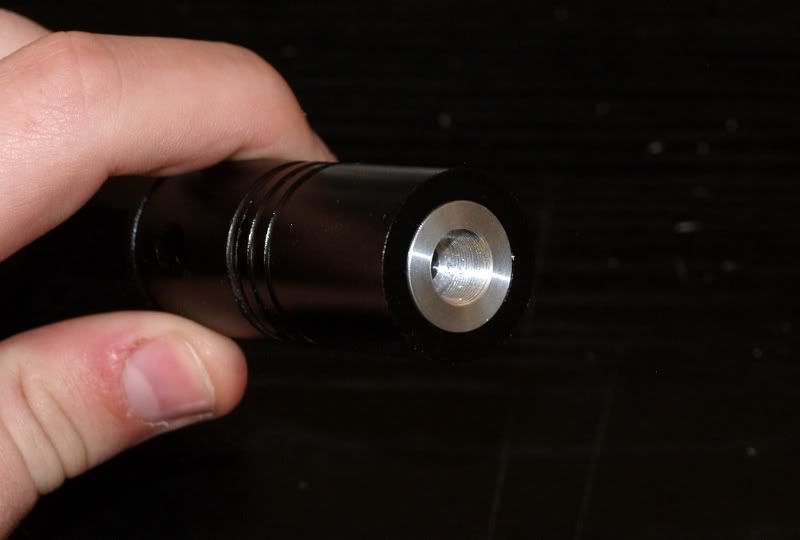 Rear part of the heatsink supports the front part and maintains electrical connection to the case, also holds 17mm driver boards.
Contact to the battery is done via PCB you have to fabricate yourself:
From that picture, right edge of the PCB presses against the rear heatsink part and 17mm board. From that edge to the center of the momentary switch is exactly 10mm. From the center of the switch to the terminal of the battery is another 10mm. I reccomend having 5mm more of PCB and 6-7 mm of spring to touch the battery. PCB should be 17mm wide.
Order of assembly:
-Pressfit the diode
-solder wires
-Run wires through rear heatsink part
-Solder wires to 17mm driver board
-Secure driver board in it's seat.
-Wire the contact/switch PCB
-Thread everything together
-Pressfit an Aixiz focus ring inside the big black focus ring you get with the host.
-Rest is easy
Price:$17 each (1 heatsink implies both parts, obviously).
-No PCB or extras included
******************
SA-305 SAiK heatsink (12mm version only)
Host:
SAiK SA-305 Cree Q2 WC 3-Mode 140LM White LED Flashlight (3*AA) - Free Shipping - DealExtreme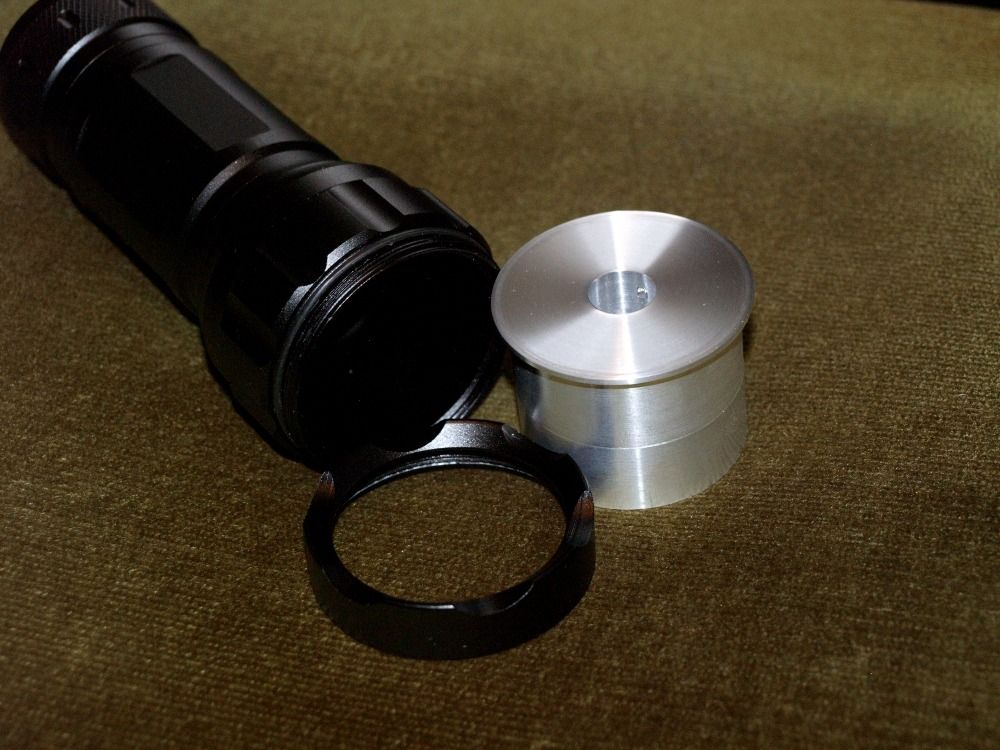 User is required to remove the flashlight's pill, reflector and glass optic in order to make room for laser installation. Heatsink has a 17mm pocket for a driver PCB or contact PCB. If the standard 3x AA battery holder is to be re-used, longer spring on contact board/driver is reccomended. Otherwise, can fit 26650 and 18650 batteries normally.
SAIK Heatsink 12mm module version = $22
******************
Ultrafire C1 heatsink (12mm module version for now)
Host:
UltraFire C1 18650 Battery Flashlight Torch Body Tube Host - DinoDirect.com
I love this host. Very high-tech looking.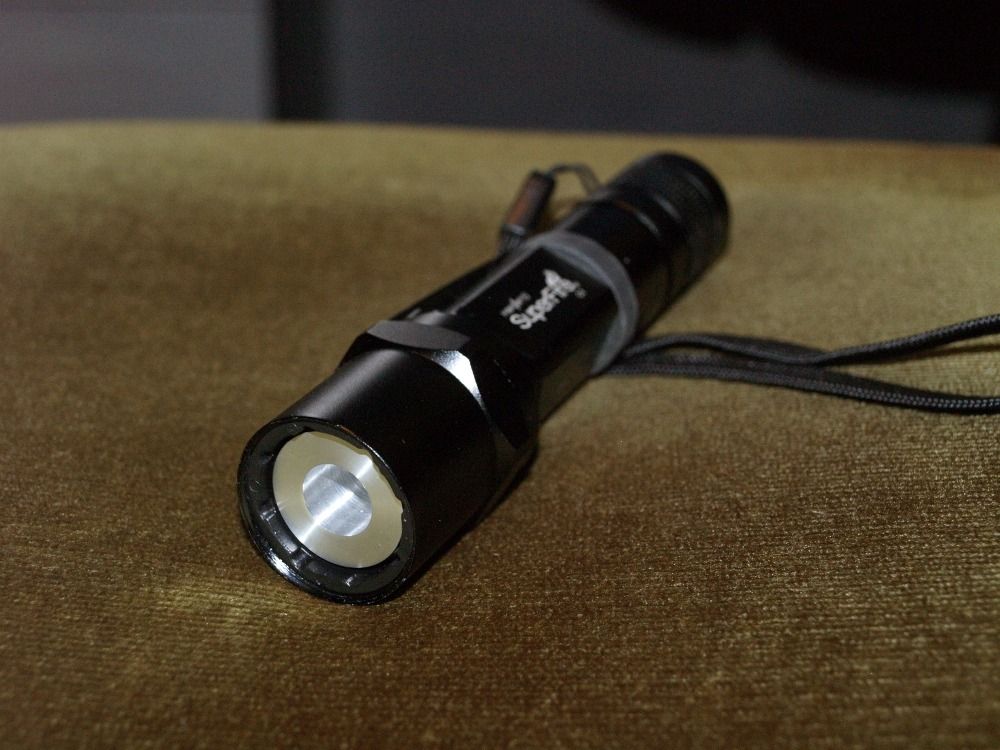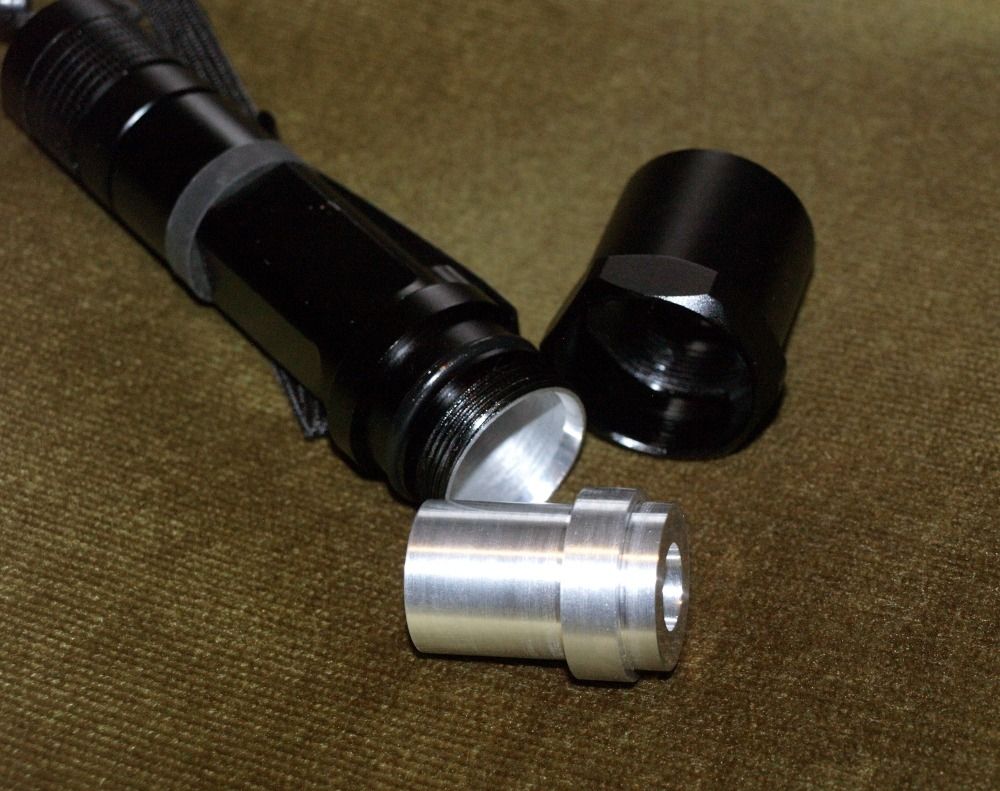 Required to remove the little glass optic to install the heatsink. You can leave or remove the small plastic retairner ring which originally holds the glass. Difference is merely aesthetic. Heatsink has pocket for 17mm boards. Required longish spring for 18650 battery (so it can also fit 2x 16340 and 2x 18350)
C1 Heatsink = $15
********************
Ultrafire C2 heatsink (12mm version only)
Host:
http://www.dx.com/p/ultrafire-c2-di...iver-pill-1-18650-2-cr123a-15946#.VZQI3FLlYUQ
Heatsink: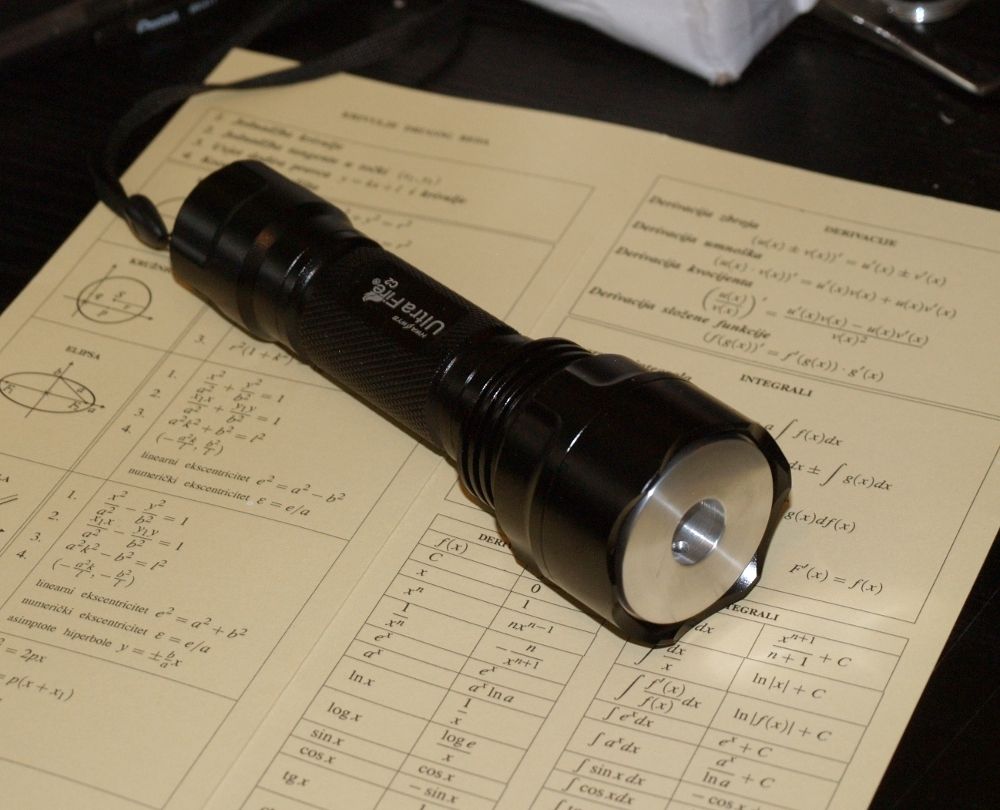 Installation is as simple as it looks. Host comes with integrated pill, so the heatsink doesn't have an integrated 17mm board slot like some others.
Price= US $20 each
********************
Cree Q5 heatsink (12mm only)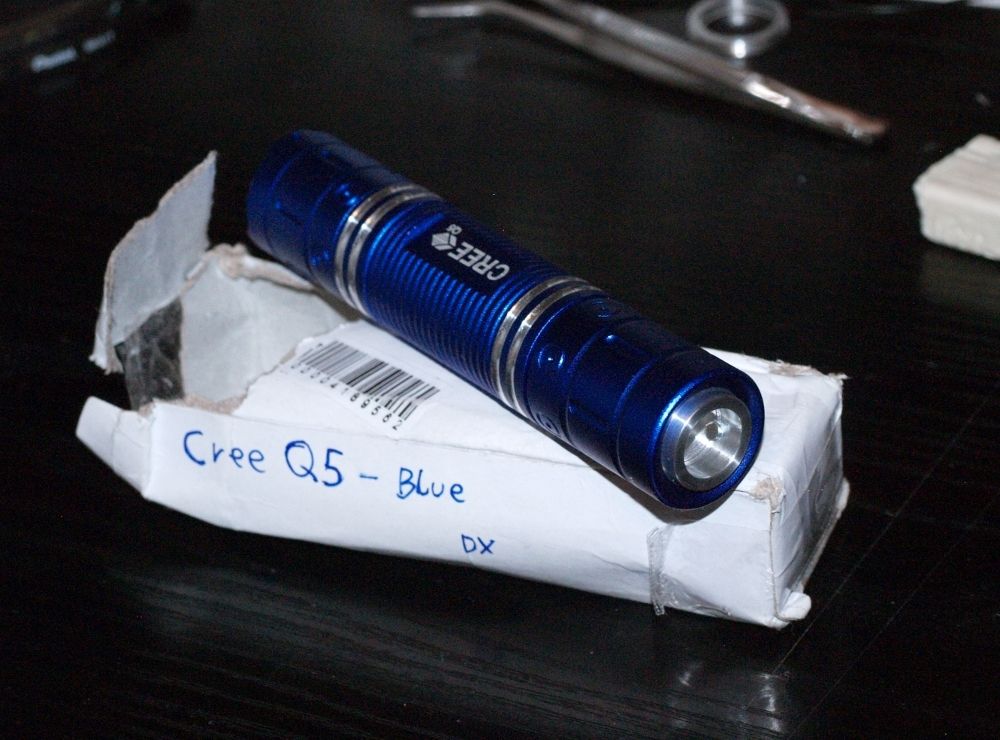 Installation is as simple as it gets.
Price= US $10 each.
*************************************
*************************************
Custom heatsinks
I offer the service of making custom heatsinks made by your designs or for your host.
First option
: You can send me your finished designs and I inform you if any changes need to be made to the blueprints before production begins, due to limitations in production mechanics or whatever. I will also not accept designs made in imperial system (inches) because I simply don't have the slightest idea how to work with that and it's too bothersome to re-calculate entire drawing.
Note,
once we agree to the design, I will make them exactly as you draw them. I do not accept the dimensions denoted as "around 2mm" or "more than XY mm". If
your
heatsink made by
your
designs does not fit, it is your fault, not mine.

Second option
is to simply send your host over to me. I will design and produce the heatsink at no additional expense compared to the first option. I only request that I keep the heatsink design to offer for sale in this thread, up there under stocked options.
Either way, price of heatsinks is directed by it's widest outter diameter, that is, from which bar stock does it need to be made. Currently, pricings are:
Outter diameter | Price
<25mm ----------$12
25-30mm --------$17
30-35mm --------$22
If you have work which needs bar stock larger than 35mm, shoot me a PM and we'll talk the availability and pricings.
******************************
Custom hosts
************
Note
: I am no longer offering custom hosts. All my designs have been forwarded to a member named "sinner" who does far superior job than me at hosts. Contact him if you need custom hosts machined.
***************************
That's it for now. I'll keep updating this thread with new stuff as they pop out.
IMPORTANT:

Ordering info:
Just shoot me a PM with complete list of what you want to buy, I'll quote you a grand total and give you my paypal address / Bitcoin address so you can pay for it.

Note 1: Since I live in Croatia, shipping may take up to 4 weeks to reach you in some remote areas. In most cases (avg.) it takes about 2 and half weeks for my stuff to arrive to US.

Note 2: We do not have any sort of postal tracking system in Croatia, and you will NOT get a tracking number with your order.



Note 3: Free worldwide shipping. Can upgrade to Airmail for faster arrival for additional money, depending on the mass of your package.



Note about bulk ordering: I do offer bulk ordering discounts if ordering quantities in excess of 20 pieces of anything. I do not have any fixed discount rates, so if you're ordering bulk, let me know, and we'll work it out.
Last edited: