Joined

Nov 2, 2012
Messages

617
Likes

104
Points

0
I've had this laser for a while now. IIRC I got it sometime in late 2014. It's my "everyday carry" laser and you can see that it has some dings and dents. I never got around to photographing it due to being in a crappy mood at the time but this laser has gone a long way towards improving my mental health, as odd as that may seem. A lot of people, some close friends even, think it's weird of me to enjoy looking at the beam and the dot as much as I do, but the best thing I can liken it to is the Buddha's lotus sermon. You either get it or you don't, and it's not something I can meaningfully put into words.
I have to work early so don't have a lot of time, but I finally took a few pictures of it. This laser is great. It's everything the Laser 301 should have been — it has all of the 301's good qualities, and none of the bad.
The laser itself is a DTR module, Opnext HL63603TG running on a Flexdrive at 300mA, and LPM's at a solid 190mW. The lens is a Jayrob G2. The host is aluminum and consists of two sections press-fit together, which you can see below. There is no separate heatsink; the host itself performs this function. The laser has two switches, a master on/off clicky in the tailcap, and a momentary side switch. A single 18650 powers the unit.
In terms of handling, it's just like a laser 301 and can do the same things, e.g. lots of rapid fire pulses if you want it to, long duration operation with no problem, and it's got the safety switch to prevent holes burned into pockets. Only, it's better than the 301 for a number of reasons: Good quality, the side switch is recessed which leads to a lot less misfiring, and the safety switch is a simple button rather than a key. Originally the button was black, but the paint came off and I noticed that the plastic underneath is red. So, I scraped the rest of the paint off. I love how the red button looks, it's perfect. It just screams "mad scientist dangerous device"
Unlike a laser 301, it has been basically problem-free from day zero. It sat for some months because I couldn't decide on a laser to put in it, but then my 638's C6 host broke, and that took care of that. I'm honestly a bit tempted to swap out the 638 for something stupid, maybe one of those 5W Death Star diodes that everyone is building with nowadays.
There is the host. The arrow shows where the two pieces are press-fit together. Every now and then (3 or 4 months, a while) the front piece starts to work its way out, due to being jostled and dropped and whatnot, but a quick press in the vise takes care of that.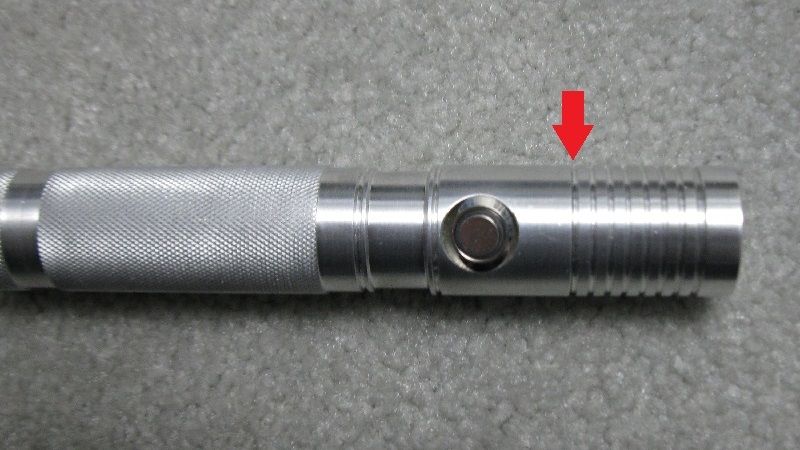 There's a nice host and beam shot. That red button looks dangerous, don't you think? It's convenient in that I can put some tape on the side switch to keep it on, and I can still turn the laser on and off via the tail button. The laser was on for about 10 minutes while I was taking the pictures and it never even got warm.
Another host and beam shot:
And from another angle:
Thanks to Ehgemus, DTR, and LPF for making this laser possible. It has gone a long way towards keeping my mindset positive and for that I am grateful.
Last edited: