Hi everyone!
First of all: let it be clear that I am a total newbie when it comes to lasers. Therefore I will greatly appreciate any help and guidance provided. Thank you so much for taking the time to read this.
For a student project not really related to lasers I am in need of a projected grid similar to this: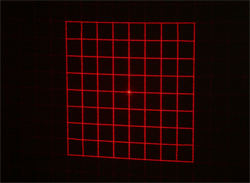 The size of each square, or number of squares is not vital, but I guess more is better. The total size should be at least a few meters wide at a distance of 5m. As this probably can be adjusted by moving the laser module around it is not critical for this first attempt. It is more critical to locate available parts that can enable us to do something similar to this.
I am looking for tips or suggestion as to how to create a demonstration prototype in a cost effective way (sort of a "proof of concept").
From what I gather from search here and reading what I need is a semi powerful laser module, and possibly some sort of diffraction grating?
This might seem silly, as I know very little about these things, but here is my plan:
Buy a waterproof laser module, and find a supplier that either has a finished grating, or can make one.
My main question now is: Is it possible to just glue the grating in front of the module? Or what would be the correct way to assemble these two parts together?
Concrete example: Can I buy one of these:
Focusable Waterproof Car Red 660nm 200mw Laser Lazer Line Module Diode Locator - Buy Laser Module,Red Laser,Laser Diode Product on Alibaba.com
And find a grating to attach to it?
Or do you know any suppliers that make "custom" modules, and can provide me a waterproof/weathersealed module able to project a grid?
Additional requirements (not set in stone at this stage, but preferable):
- Battery operated
- Able to function below freezing temperatures
- Able to sustain operation for more than 10 minutes continuously
- On /off switch (not one where you have to hold a button pressed)
Best regards,
Boulder (Norway)
Last edited: