Joined

Mar 13, 2017
Messages

20
Points

3
Now, i got the 3 of 571and i'll try to disassemble one of them.
Diode mounter was fixed the glue.
So, first we have remove it. it very simple.
slide the cutter knife through the gap to cut and remove the glue. It is triangular in shape and has three adhesive point.
After that, simply open the diode mounter by turning it. It's like opening a bottle cap!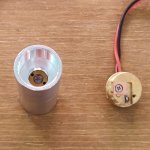 Here. 940nm C mount diode!
The silver body is very tightly bonded with epoxy. Can't open.
But, if you gently heat with a heating gun to soften the epoxy, but not impossible to open. it is very difficult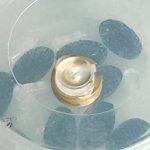 Crystal.
i don't know constituent of it. sorry
The crystal is slightly larger than 532nm.
The structure is simple. same as 532nm standard green. This means that... hope that it can be easily converted into a pen type pointer with a little dexterity.