Joined

Feb 5, 2008
Messages

6,296
Points

83
Hiya LPF folks, I would like to do a review only partially related to lasers here...
Well a month ago, by my friends request for a 1W IR handheld laser I has to order 18650 host...
DealExtreme: $9.90 Ultrafire WF-501B Philips Luxeon K2 Blue LED Flashlight (1*18650/2*CR123A)
Since this one is the cheapest one on the internet IMO, it was obvious choice. Well folks after trying it out, I feel so bad about installing a laser inside it, especially since I never owned a highpower flashlight before.
First the basic look and feel.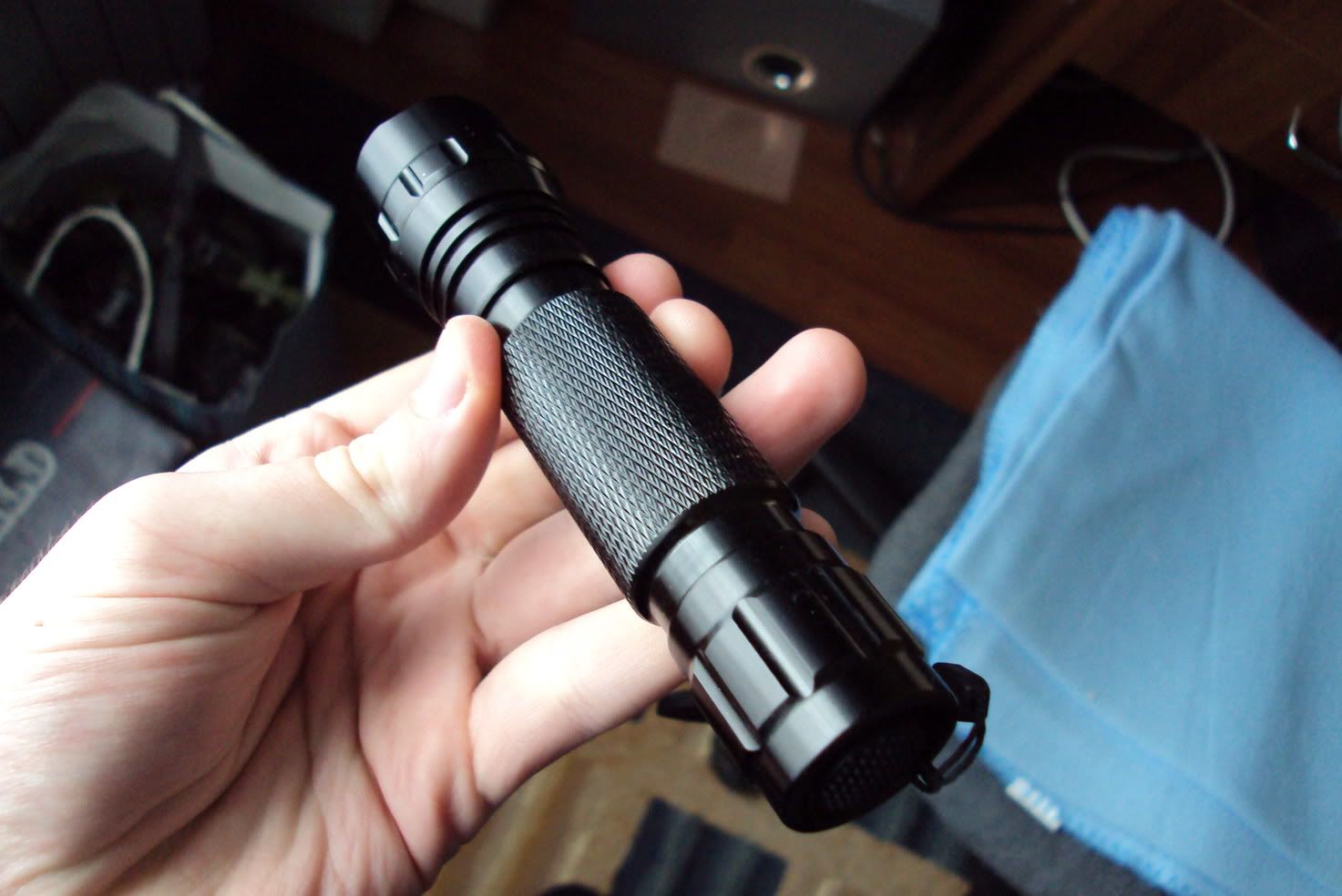 It feels generaly ... awsome
the threads are very good (although not as good as Cree C6 Aurora)
The inner construction is very good and well thought. Inside the battery barrel, full anodization was done. Which is in my case, essential. The one and only 18650 battery I have at a time just got gutted because the protection PCB was faulty and had to go. Now the battery works normal again.
Peeling off blue foil results in exposing entire battery body as negative connection, not just the a$$. So, if there would be threading from inside the barrel, the negative would already get bridged through it to ther host.
First powerup left me searching for my jaw, and in most useless attempt to stop the ongoing 'o' in WOW. Followed by crazy maniacal laughter.
I was curious to check the current draw. DMM to 10A unfused, shows 0.82 A between battery negative and host body. Once again, wow! It does actually put out 3W of light! One thing bothers me though, 3 W emitters are found to cost than entire flashlight. I sure ain't complaining!
Unbelivably enough, the beam of blue light is visible in room with lights on: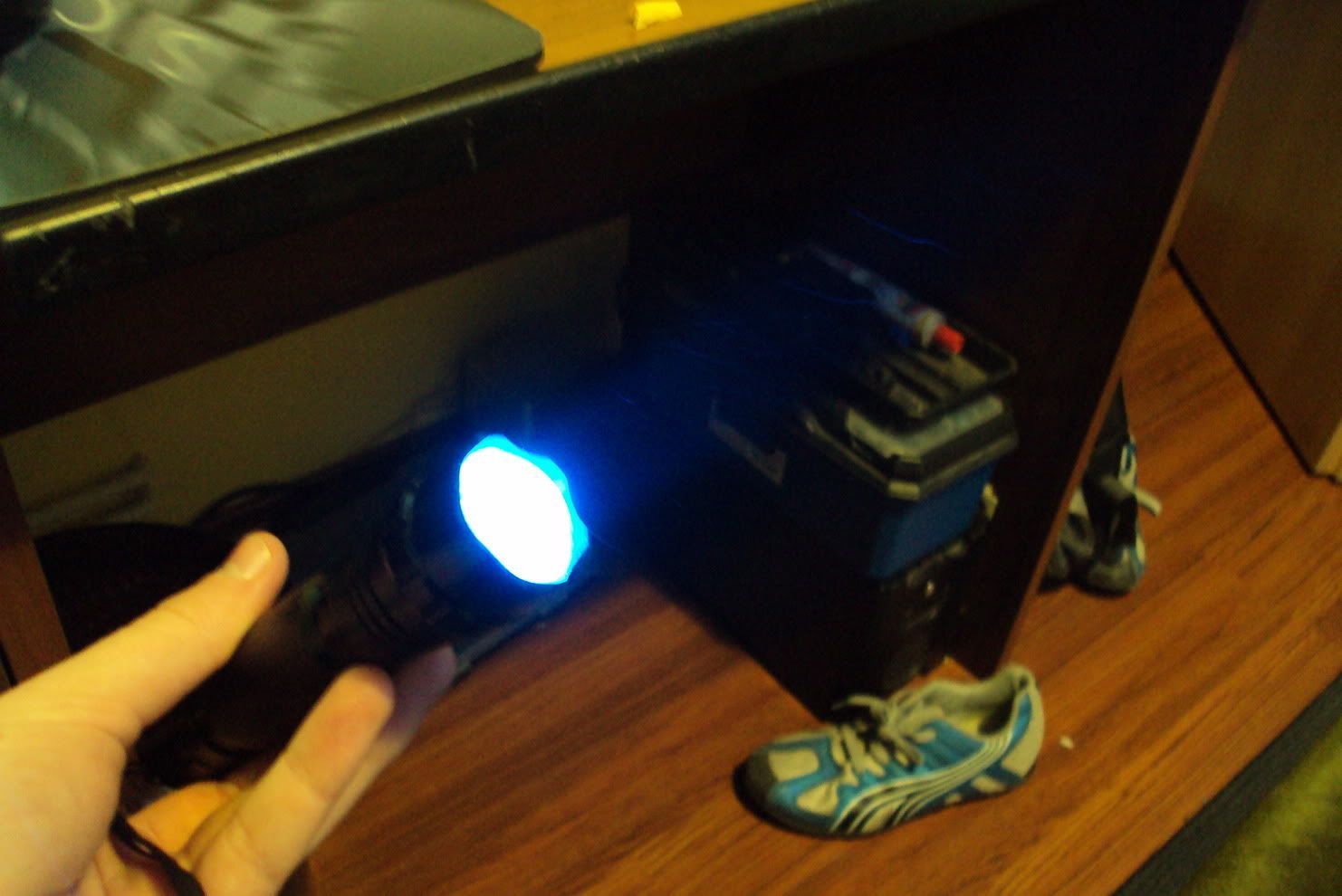 And one more thing caught my attention. Pointing it at my hand actually STINGS SKIN. That is right ladies and gentlemen. This flashlight puts out enough light for burningly tingling sensation on your skin. How about that!
Also, I noticed that after 2 or 3 minutes of continous use the 'neck' will feel warm to touch. NO, that does not mean it is overheating. That means it is heastinked properly! It is pretty much expectable for this thing to produce quite a bit amount of heat.
Some pictures of internal installation:
The head further screws apart to reveal the emitter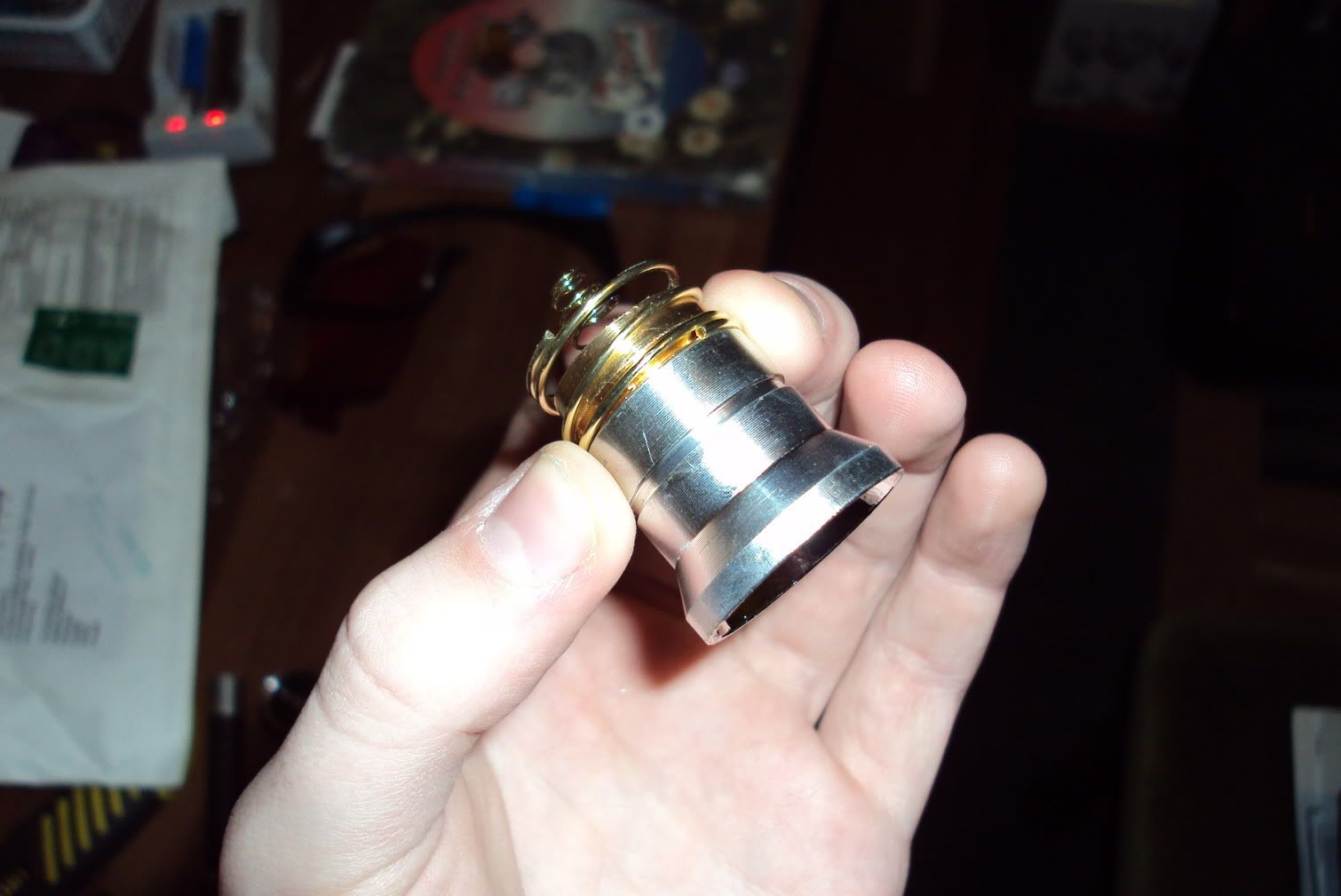 This is one mighty and excellent flashlight.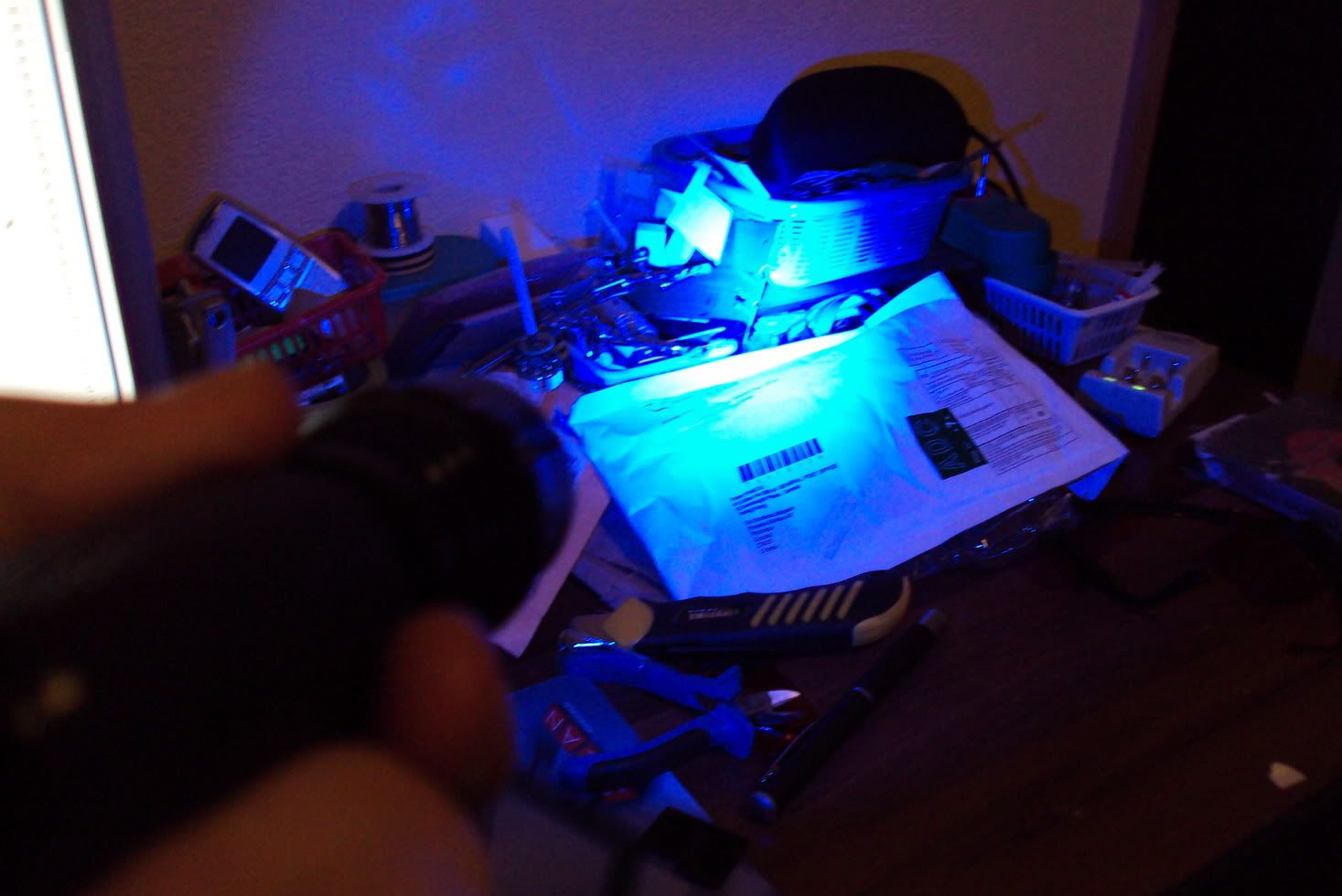 Also, will make GITD items glow: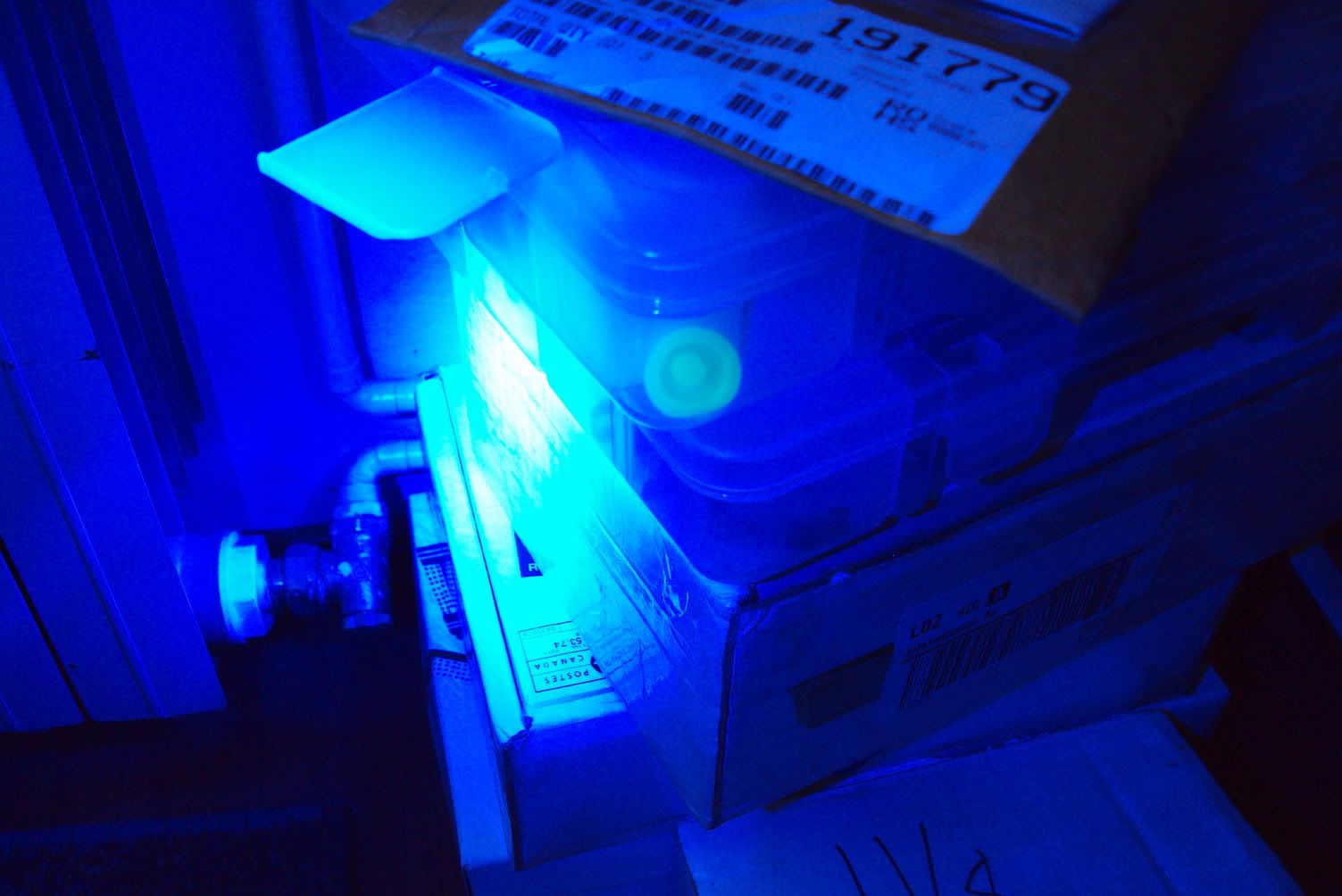 Also, IMHO there is enough room in head area for good heatsink, providing helluva duty cycles.
Nightshots coming soon!
P.S. Sorry Jerry