Hello,
This is my first "review" on my first high powered laser. Feel free to critique my shots and explanation etc etc. I am still getting used to shooting this laser with my dslr.
OK,
on 7-23-13 I see a "Daguin's at cost sale". I scroll down to see a very sharp looking "Laser Saber" with an impressive power output of "1.6W" via the M-140 445nm diode driven at 1.8A powered by two 18650's (that were included along with a holster).
The transaction was very pleasant and smooth. Great communication. A few timely PM's were exchanged and the item was paid for AND shipped on the same day (23'rd).
The package came on 7-25-13 from California to Pennsylvania
Props to USPS
The package
Very nice packing/protection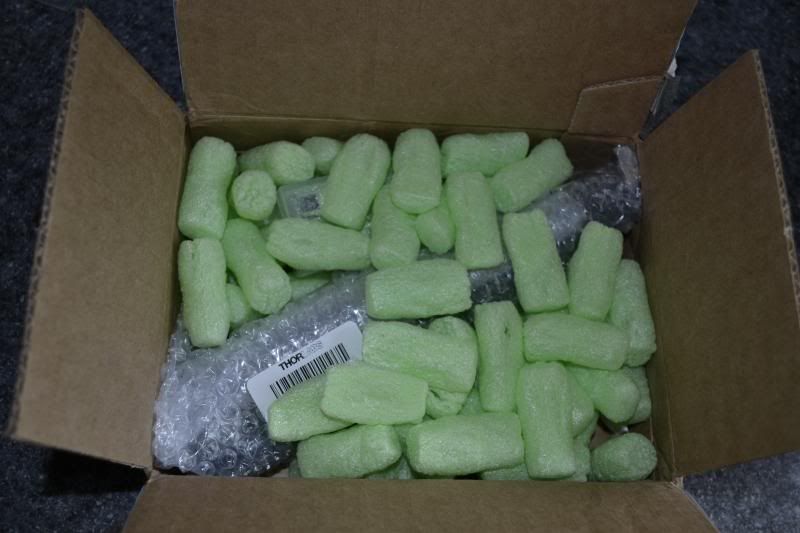 I am very pleased with this holster that was included
This feels very nice in the hand. It is balanced well also. Feels solid
The only thing I wanted to change was the focuser/lense. It seemed like it got a little to loose and had a tiny bit of "play" at infinity. This was by NO MEANS a big deal.
The idea immediately poped into my head of "Teflon thread tape". It worked quite well at "tightening" up the threads just enough. You can see it below.
NONE of these beam photos are with smoke. The camera (Nikon D3100) was in auto with a "normal" shutter speed and ISO. I cant real the exact figures.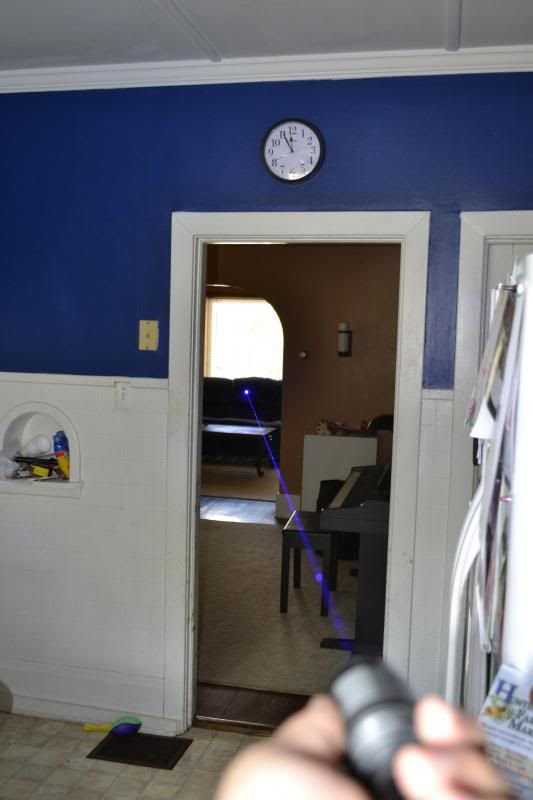 My only "Camera phone" pic. I thought it looked neat.
At night. Camera still in auto. Definitely wasn't a long exposure. The kitchen light was on along with the TV in the living room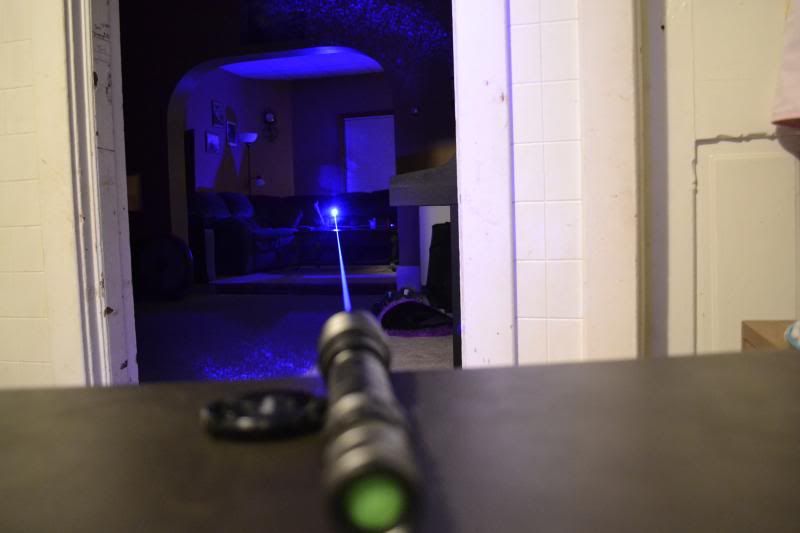 This exposure was 5 seconds to illuminate the yard and my house. The laser was on and off as quick as I could "clicky" it. I only did this ounce. It was SO bright. Also, I vigilantly checked for aircraft in all directions from zenith to horizon before the second pic here.
So Iam VERY pleased with this laser's performance and feel. I thought I knew what to expect from a laser with this power output but I was BLOWN AWAY. These are a "whole nother beast" in person.
It was also a pleasure to do business with daguin. THANKS again.
OK guys. Be nice lol