Joined

Nov 2, 2012
Messages

617
Likes

104
Points

0
I've had this laser a little over two weeks now and I figure it's about time to do a review on it. I think I've finally got a good set of photos to go with the review. I haven't felt very creative lately; inspiration for good shots just hasn't been there at hand, and you know how it is. You have to take dozens of pictures to get anything good.
C6 OPNEXT HL63603TG 200mW by CHEECH226
The purchase
Cheech226 posted a thread on BST a while back and bumped it later, and I noticed he was selling a 638nm laser, among other cool lasers. It turns out this is the exact laser I was planning to build myself, right down to the driver mA setting. The price was $110 shipped. I had already priced the components before seeing Cheech's thread, so I know that price is a steal. I contacted him right away. I sent payment on or about Dec. 28 and had the laser in my hands less than a week later, despite USPS running out of the appropriate shipping boxes plus the delay due to Jan 1. It was a good experience; Cheech226 is a solid person to do business with.
The laser
The laser is built using the pre-assembled Opnext HL63603TG and Flexdrive from DTR's laser shop, which is installed in the unmarked C6 host and copper heatsink from Survival Lasers. The diode current is set at 300mA and the total draw is about 340mA at the tailcap. The lens is a G2 coated for red wavelengths. I've run the laser for ~10 minutes at a time while taking pictures and the heatsink barely got warm at all. It's a very bright red laser, and LPM'ed at just over 200mW with the lens in place.
The first thing I noticed about this laser is how SMALL it is. There are lots of pictures of C6 builds on the forums but most of them don't give a clear idea of the actual size of this host. Length from tail cap to the front of the focusing disk is 4.8" (124mm) and the maximum diameter is about 15/16" (24mm). However despite being so compact it is heavy for its size, due to the copper heatsink. It's heavier than my Lazerer LZCS units, and weighs about the same as a 2x16340 Skylaser-HL. The extra inertia makes the laser easy to hold steady on a distant target. Most nicely, the host fits an 18650 cell, which makes for infrequent battery changes and is just really convenient overall. There is the C6 host next to a Lazerer LZCS.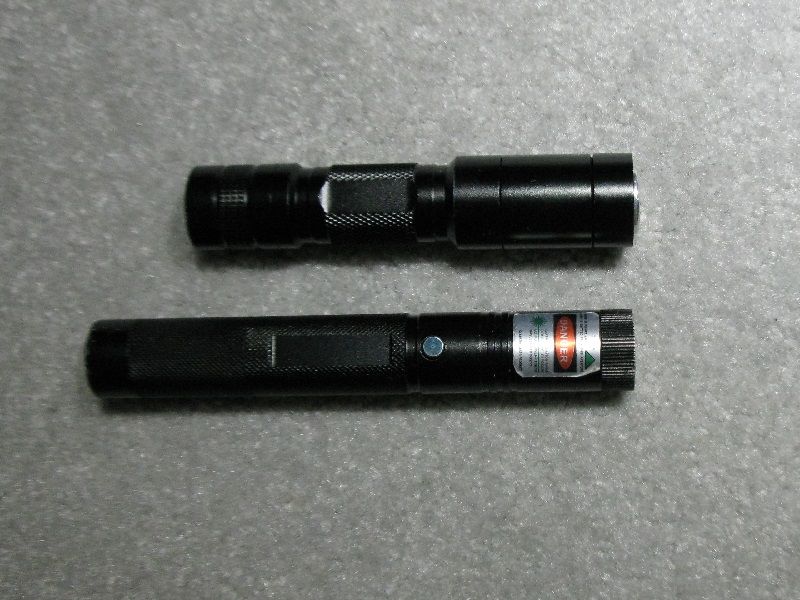 This is a really solid build. I hope to build my own set of C6 lasers eventually. All the common diodes plus 532nm DPSS would be good, then maybe some "exotic" diodes or DPSS wavelengths.
This build feels very durable. I have dropped it a couple times, unfortunately, but IMHO that is just part and parcel of the life of a laser pointer. The unit took the falls just fine, suffering only a few dents on the front retaining ring. What is cool is that, as this is a Western build, I can just replace dinged-up host components as needed.
Well, anyway. What you really wanted to see is some laser pictures, isn't that so? I figured. Okay:
Beam and host: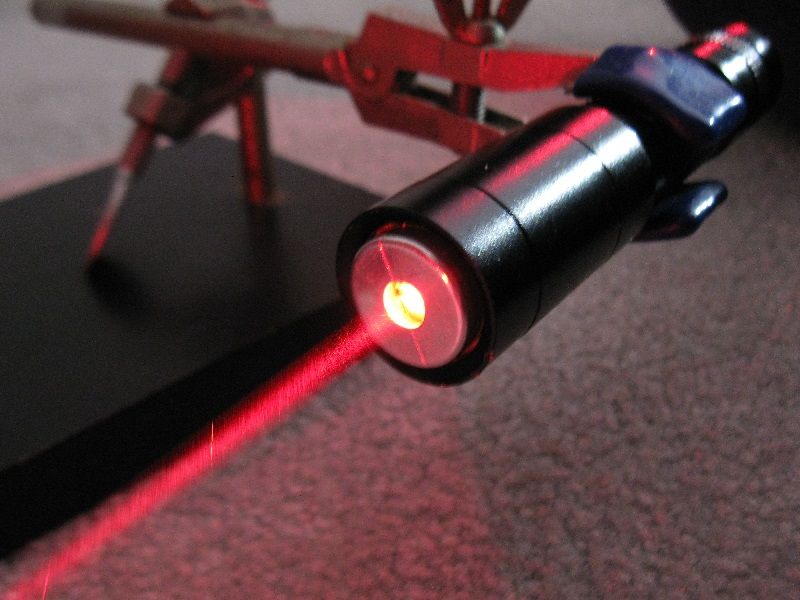 Beamshot #1
Beamshot #2, onto grey/silver carpet. My carpet is great for lasers, the fibers act like tiny lenses that tend to scatter the light rather than absorb it. Even my 500mW burner purple could never melt it.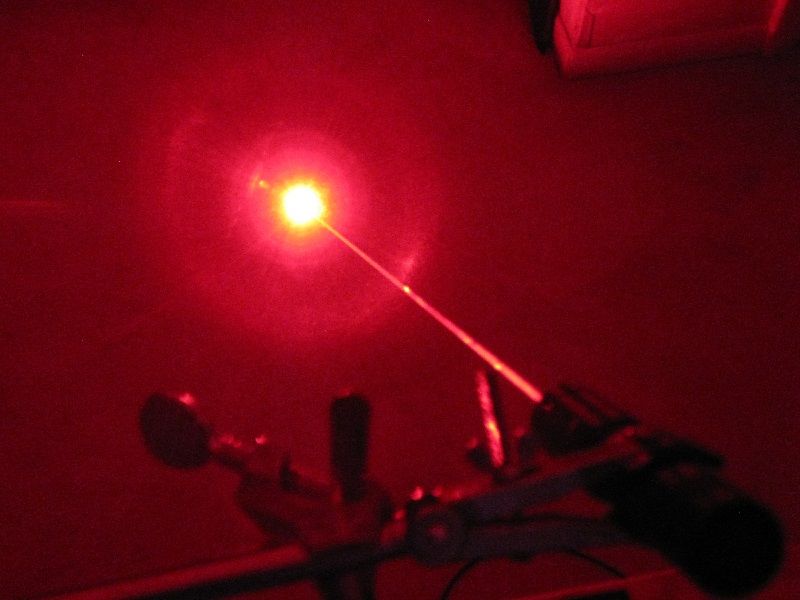 Compared to my Skylasers HL 650nm @ 300mW. Note the lavendar appearance of the 650nm. The camera's response is very IR-like compared to 638:
The unfocused beam. I really do love single mode. I think it's the best: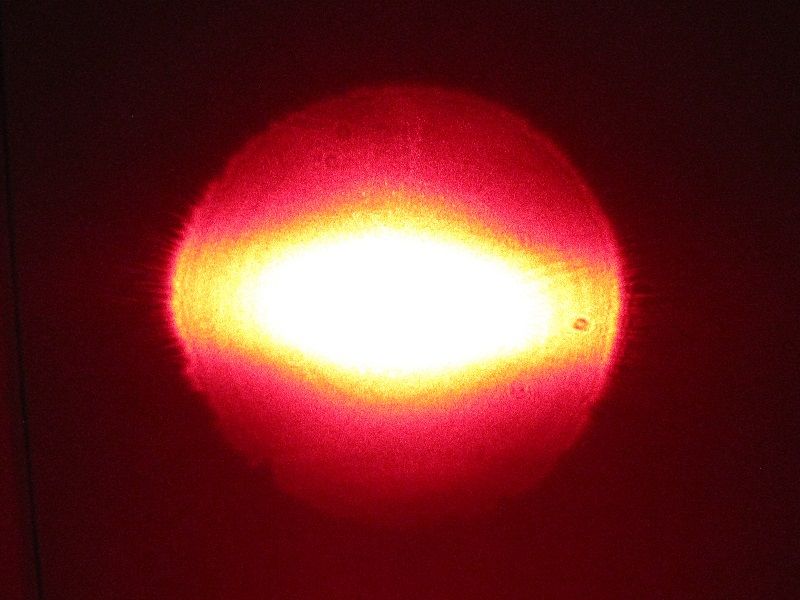 Compared to other 630's lasers. From left to right: Uniphase 155ASL-1 HeNe 0.95mW; AtlasNova 635nm 5mW; Opnext HL63603TG 200mW.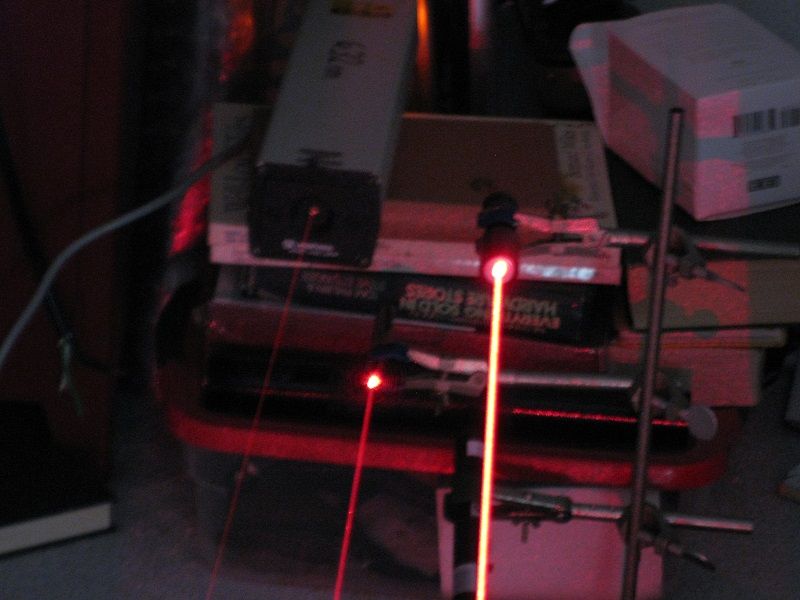 Another multi-red laser comparison:
And another. Because beam shots kick ass:
The laser diode itself. It is TINY.
Last edited: