Joined

May 11, 2015
Messages

7
Points

0
UPDATED 6-2-15: See post #4 for some healthy firestarting action!
This is essentially a copy of what I
posted on CPF
about a month and a half ago about this light.
As far as I know, it's the only one like it in the world for the time being. The singing is coming from vibrational manipulation of the filament through an effect called Magnetostriction. This is made possible by a completely awesome incandescent bulb driver from JimmyM.
Read on, and I hope ya'll enjoy.
--------
From the fiery depths of parts-scattered-all-over-the-house purgatory, an evil beast has risen, and it sings of retinal damnation. Its name is.............
Beelzebulb
. :eg:
I've had the parts for this thing, including a programmed JimmyM PhD-D1 regulator laying around for SIX YEARS, always wanting to get around to building it, and life always getting in the way. However, Jimmy did a
D1 giveaway contest
last summer which I entered, and won a unit. He had mentioned the capability of the D1 to vibrate the filament at varying pitches, and that it could be programmed to sing a melody. So, a couple months later I contacted him about this, and he spent a lot of time PM'ing with me, programming, and testing. This was during Nov/Dec 2014, and it's now April already, so I really needed to make good on Jimmy's work and generosity. The end result turned out even better than I hoped for.
Here it is singing the chorus to "I'll See the Light Tonight" by Yngwie Malmsteen, then turning itself on to unleash its 5,000+ lumen fury.
The specs:
4D Maglite shell... red, of course
Custom programmed PhD-D1, of course
5 X AW IMR 26500
Borofloat lens from Flashlightlens
Fivemega MOP reflector, possibly a "NewGen"
Kiu stainless LP bezel
Kiu high temp socket
Osram 64623 100W bulb overdriven to 15.2V (about 155W)
Switch modified to momentary only for safety reasons... functions as a dead man switch
Have not done low resistance tail mods yet... coming this weekend.
There is one problem to be dealt with. The filament height requires the head to be screwed out way past the o-ring in order to hit the reflectors' focal point, which leaves the head loose, and a little wobbly. The only way I see solving this is with shorter standoffs for the Kiu socket. Gotta' see if such things exist as the head really needs to just cover that o-ring with the bulb in focus, and this mod will be pretty much perfected.
It's a
devilishly
handsome flashlight, I must say (click on images for full size).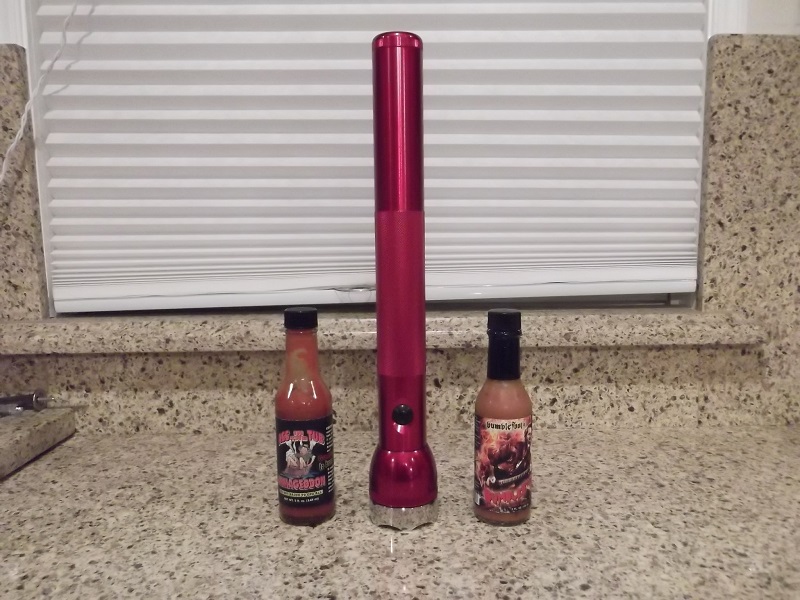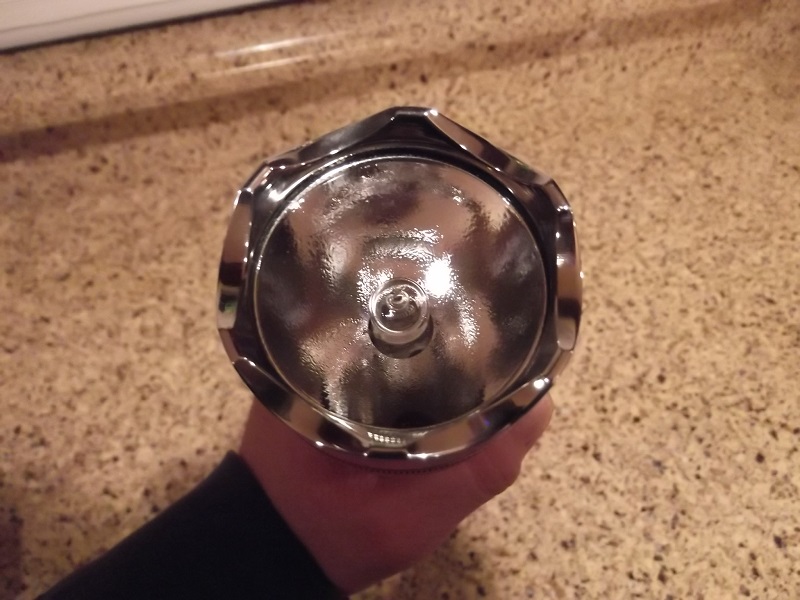 In addition to all the members whose excellent offerings played a part in making this build possible, and a very high quality one at that, a special HUGE thanks goes to JimmyM for providing the means, and the extra time it took to allow Beelzebulb to realize his full potential as a true Prince of Darkness. He will be busy terrorizing the neighborhood after the sun has fallen.
Thread coming soon on his little brother, Lumifer. :eg:
EDIT: Sorry, guys... assumed the forum software would downsize the photos, and trying to figure what I'm doing wrong with embedding a youtube vid. I'll straighten these things by sometime today.
EDIT 2: Fixed! And thanks, Gozert. That made me realize that the tag doesn't use the entire URL. It showed up as a white box last night when I did that.
Last edited: