Maybe I'm missing it in my searches, but I'm having trouble finding how to do a simple assembly and how to work with housings. Maybe I've got some wrong ideas...
I've started off with some cheap 3mW and 5mW lasers I found on Amazon - 40 for $13, so cheap things, just to play around with. I got some small housings, about laser pointer size, but now I have no idea how to get the diode into the housing so that it's attached firmly and working correctly. The electronics part isn't much of a problem, but the physical part is eluding me.
Here's what I have: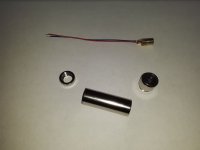 I also picked up a 1500mW (supposed) module that's a diode/driver combo, trying to figure out what to do with that to get it into some sort of integrated container. I'm guessing some sort of a larger housing but that leaves me with the same conundrum.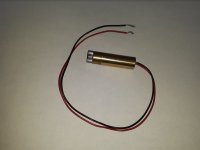 Suggestions appreciated - even if you could just point me the right way, thank you!