Joined

Aug 31, 2016
Messages

311
Points

63
Finally got around to building this beast...
Solid Copper
Tùng Laser
Host
NUBM44 Laser Diode in 12mm Copper Module
Multi-Function Driver:
- Group 1: Lo(5%) > Med(40%) > Hi(100%)
- Group 2: Lo(5%) > Med(40%) > Hi(100%) > Strobe > Beacon
Sanwu X3 Beam Expander (Painted Copper)
2 Element Collimation Lens (Works Best I've Found w/ BE)
Illuminated Side Switch (White)
Reverse-Clicky Tail-Switch
Requires 2x 26650 Lithium Batteries
Weights Approximately 3 Lbs 12 Ozs (1710 Grams)
Over 12" Long (310mm)
Shined w/ Mothers Mag and Aluminum Polish
Protected w/ Renaissance Wax Microcrystalline Polish
This pointer is a monster! By far the nicest I've built.
Beam Shot
<-----------
I need to get a better video when it's a little lighter outside.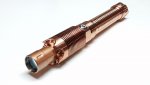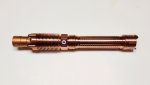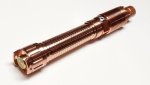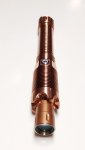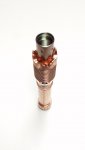 Last edited: