Joined

May 20, 2013
Messages

358
Points

28
Hello, I decided to risk my money into a laser from Aliexpress, I expect at least > 50mW from it, so if it burn stuff I'll be happy.
THE STORE:
The store are located at this address 'http://www.aliexpress.com/store/1512025', soon as I bought the laser, all the products was excluded from the page, seems that the guy has shut down it Aliexpress account.
DESCRIPTION:
Since my product is now unavailable, I have access to a snapshot of it:
Product Description
this is the newest model of a flashlight shaped green laser pointer torch, it is designed with a focusable lens, metal body.
Size: 14.5cm * 2.5cm
Wavelength: 405nm/543nm/650nm Blue&violet/ Green/Red
Range in darkness: 10,000 meters
Power Supply: 3.7V 18650 Industrial Package Li-ion Battery with multi-function charger
Focusable(you can change the size of the point)
Torch Color: Silver Black (leave message which want ,or random)
WHY I BOUGHT IT:
I know that is a chinese laser, I bought it because the host, I liked it, is different from the 301/303 lasers, if the laser stops to work I'll still have a cool host to use.
PACKING:
Not well packed, I perceived it immediately when the post man arrived, a simple yellow bag, the laser was inside a very tight bubble plastic, so if something had knocked it the laser could be damaged. Lucky, it arrived with no damage:
THE LASER:
The laser is very lightweight, the finishing has some defects but nothing critic, the host seems to be a copy of the OX-G40 laser:
The host is nice and comfortable, it have a big orange ON/OFF button that seems more robust than the lateral push buttons:
OUTPUT:
Since I don't have a LPM, I'll guess the output, > 50mW and < 75mW (yup, <200mW, so it a on spec laser :crackup: ), the dot is clear and I don't noticed any mode hopping, TEM00.
Does it burn? Yes! I did some tests, I was able to burn electric tape and fire a match easily than my 303 did. I'm curious to know the real power/IR power of it.
SHIPPING:
The laser was shipped 19/01/2015 and arrived today, 19/03/2015, two months, a medium speed shipping here in Brazil.
Worth it? In my opinion, yes! The seller had 84% of positive feedback, and this laser didn't had any feedback, so I bought it blind wishing for the best. For me that use it only to point to stars and far objects is a very good laser, if I need do beam shots I'll go with high exposure, If I want enjoy the beam, just a bit of fog does the job.
CONS:
It could be shipped with something to put in the place of the kaleidoscopic diffraction grating, so dust don't go on the lens, as in the original image: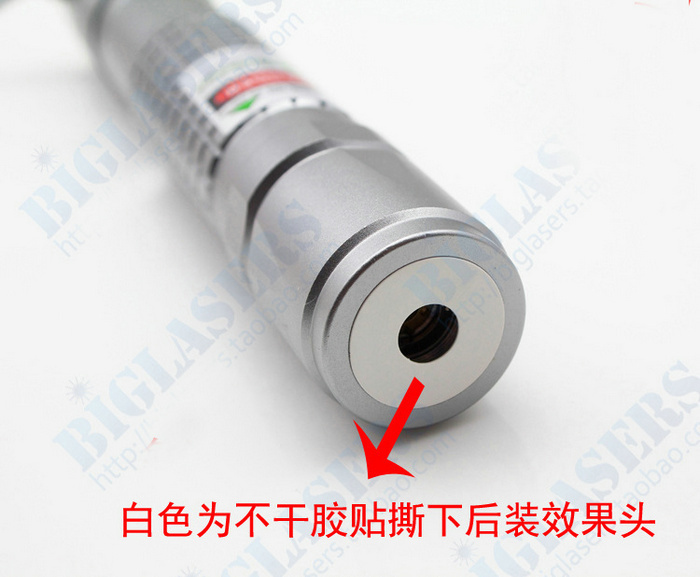 Of course, not close to 200mW, but feels like > 75mW, the kaleidoscopic diffraction grating is one of those generic seen in laser pens.
To protect the bare lens, I added a small plastic piece that should do the job.
HOST:
The host comes with two rubber rings, in the announce, it says that are waterproof rings, but I don't want to try it, here are some other images of it:
Here some additional requested info.
Focus range: From infinite to 3cm.
Beam diameter at the opening: 1mm.
Beam divergence: 2.5cm at 9.8m; 2,45mRad.
Input current: 440mA (measured with 1R resistor at tailcap).
After 5 minutes of continuous use, the host gets a little hot, from 26ºC (room temp) to 30°C, the output was stable at TEM00 all the time.
That's my first review, so, sorry for something. :beer:
Last edited: