Joined

Feb 5, 2008
Messages

6,296
Points

83
Hai peoples,
Well lately we are all getting aware how everything is simply rigged to go off the day our warranty expires. However, something can be repaired at home, and I simply did not want to let my 22" monitor go.
So, after 3.5 years or so, it started acting weird.
After pressing the power button, logo displays and image should some up. But this one particular morning one week ago, it just kept displaying the logo all over again. Unknowingly, I pressed restart button on my PC and image came up. I was like : :thinking:
So next morning, same deal, staring to get pissed off a little, fueled by the fact that this time, restart didn't help. Second restart did.
Two days later, it won't come on after pressing power button. Pressing the button while turning the splitter on/off did the trick, after which is just kept displaying the logo for about two hours until the image came up online. By that point I ruled out the PC by simply using dad's monitor, which worked right away (but hey, you can't trade 22" wide for 19" 4:3
)
So, finally I came around to disassembling the bastard with intention of repairing the sh?t out of it. As soon as I matched sympthoms to the age of the monitor, I knew what I was looking for, them bastards electrolytic capacitors. Seriously, can you make a component more short living that this ?
Okay so opening the monitor was a pain in the a$$ , since plastic clips holding back cover just won't let go of it. Had to pry it open.
Getting to the PSU board was a bit tricky, but OK, finally taking a look at the PSU board reveals my assumtion correct: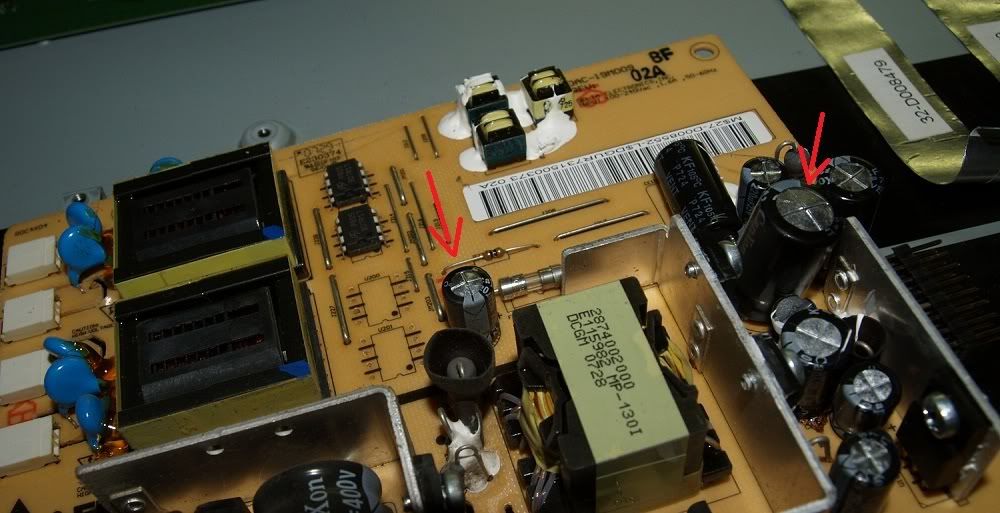 Bigger capacitor was 2200uF, 10V. Smaller was 220uF, 25 V.
Measured their respective capacitances, 137 and 43 uF.
Replaced by 1000uF 16V and 100uF 50 V, respectively (closest match I had). [Oh and, thanks to Bill, my supply of components would not exist now if it weren't for him.]
Take a look at these bastards: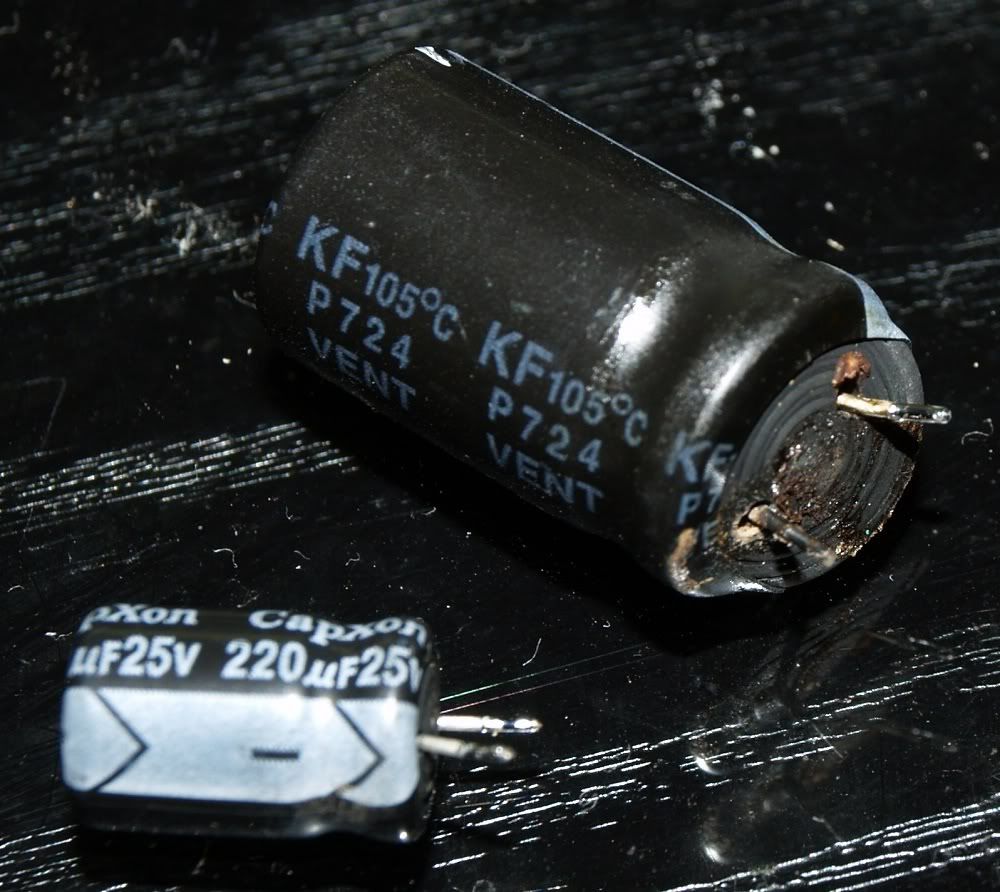 New capacitors soldered on the board :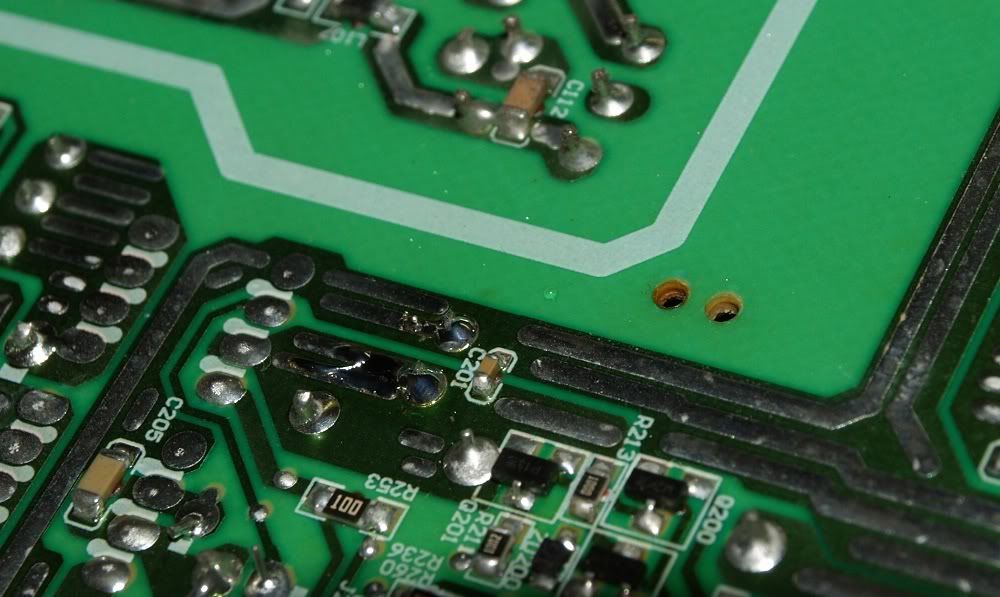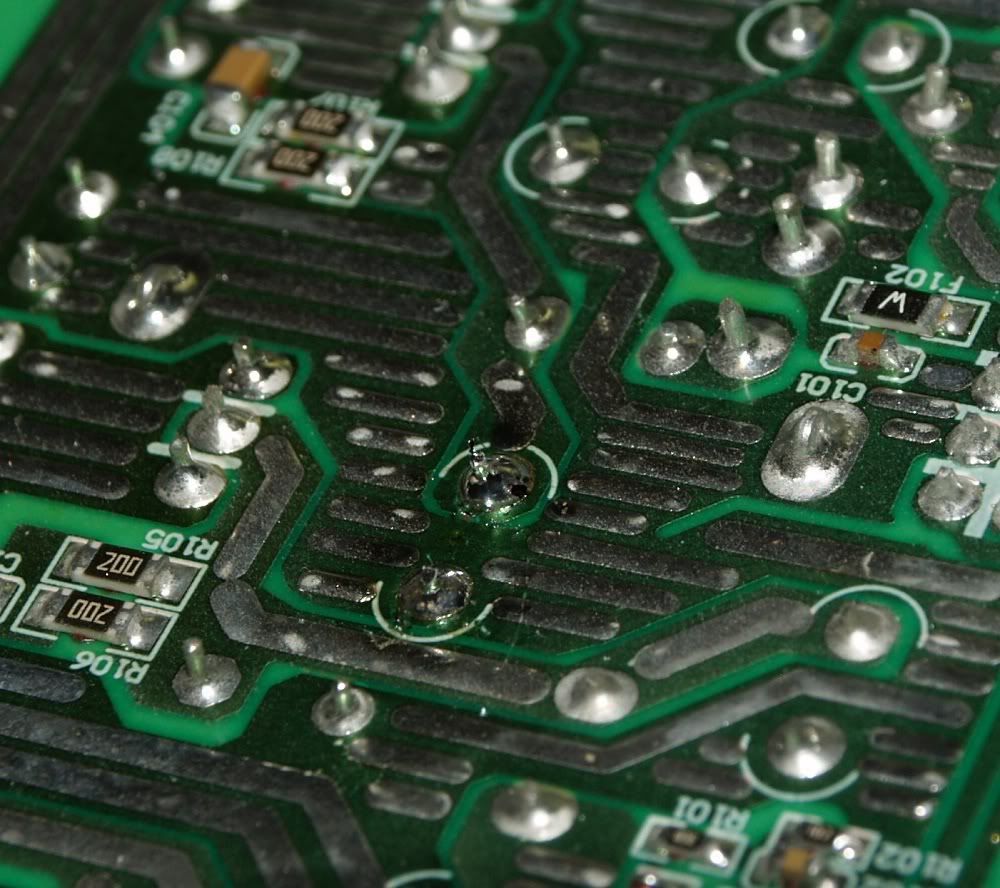 Re-assembly: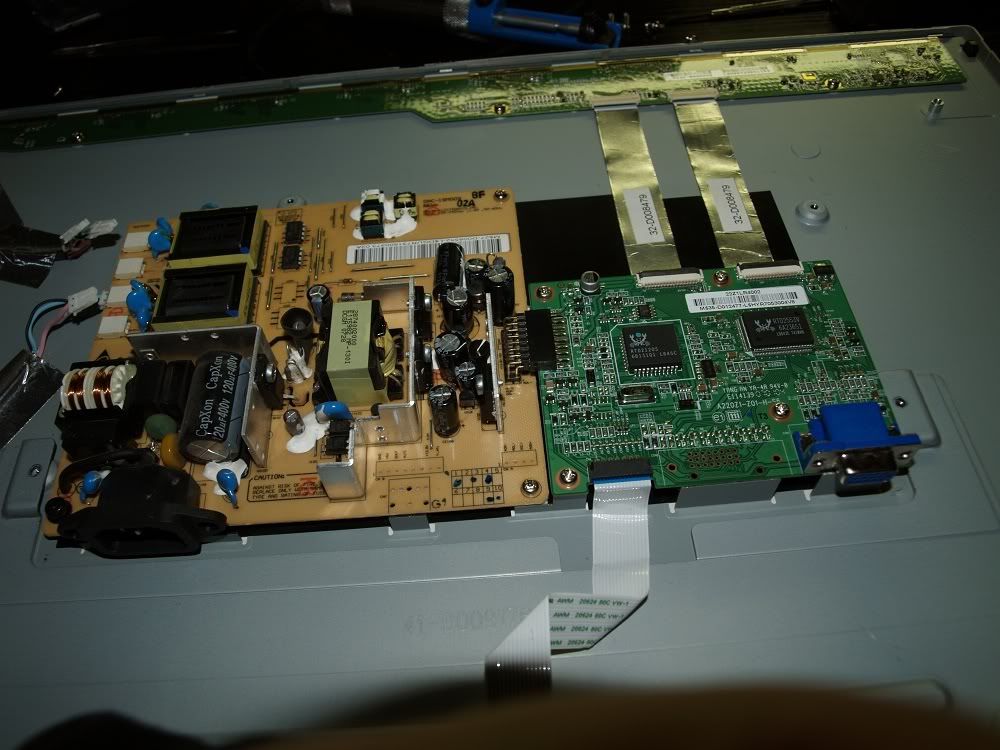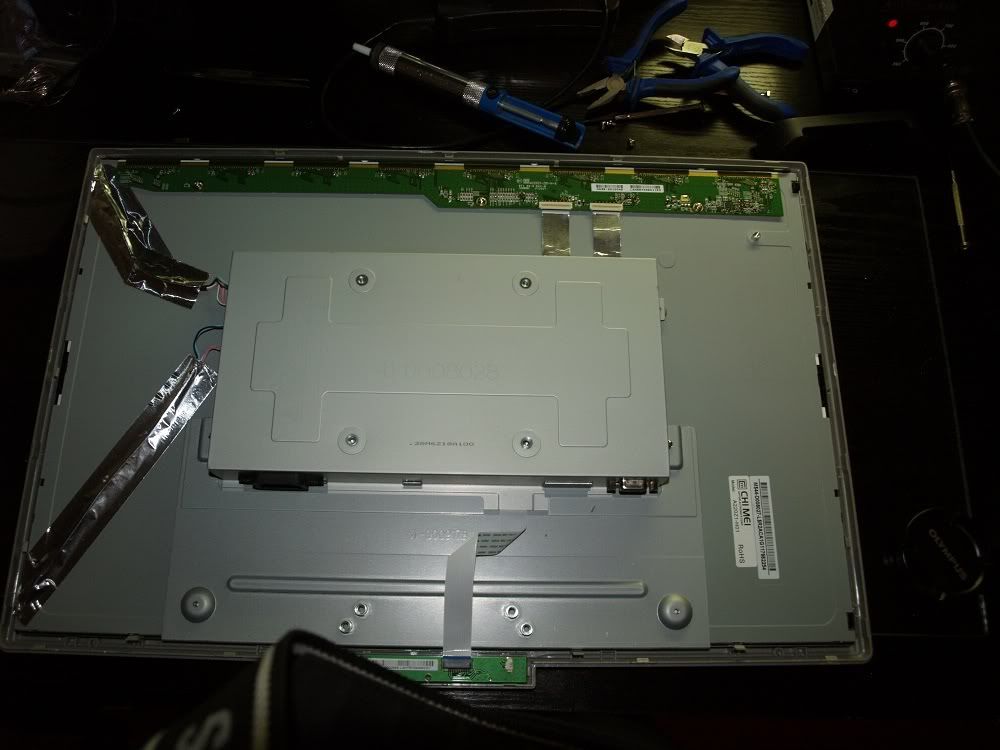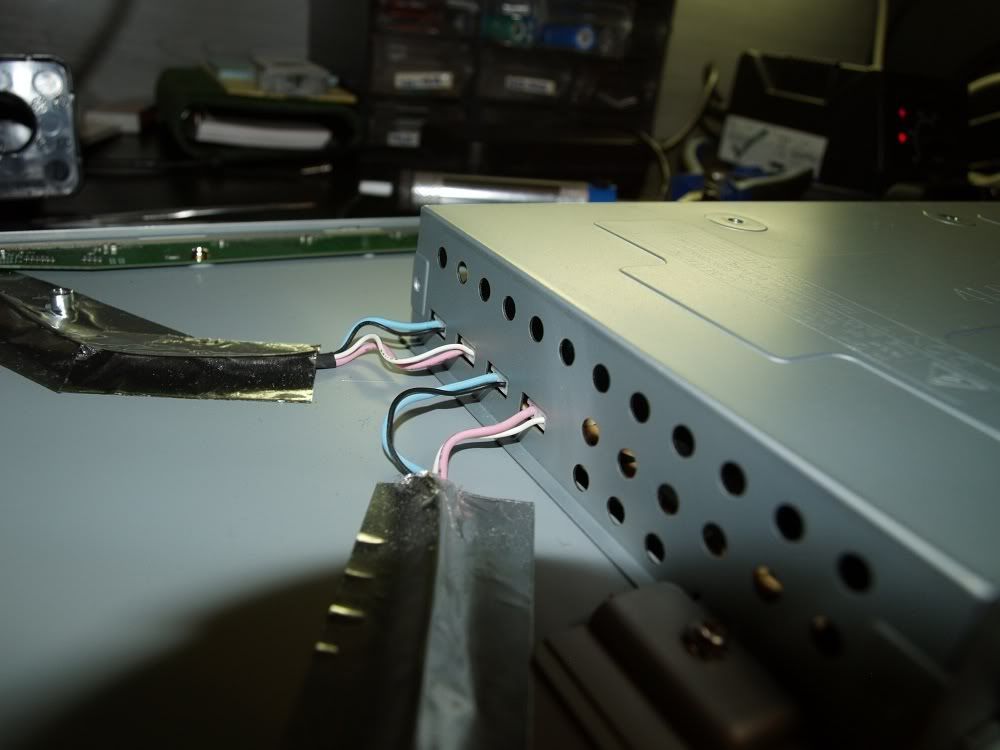 So, powerup after assembly , skipped a beat there
Yeah! I ain't throwing a perfectly good 22" monitor in the trash for two damned capacitors, and I hope this thread did the same for somebody else out there too with same or similar problems!
P.S. Is it just me , or are screws screwing when you're not looking?!
Leftovers. How?! I cared about every single one.
P.P.S Spare a moment to marvel the art of Printed circuit board manufacture process: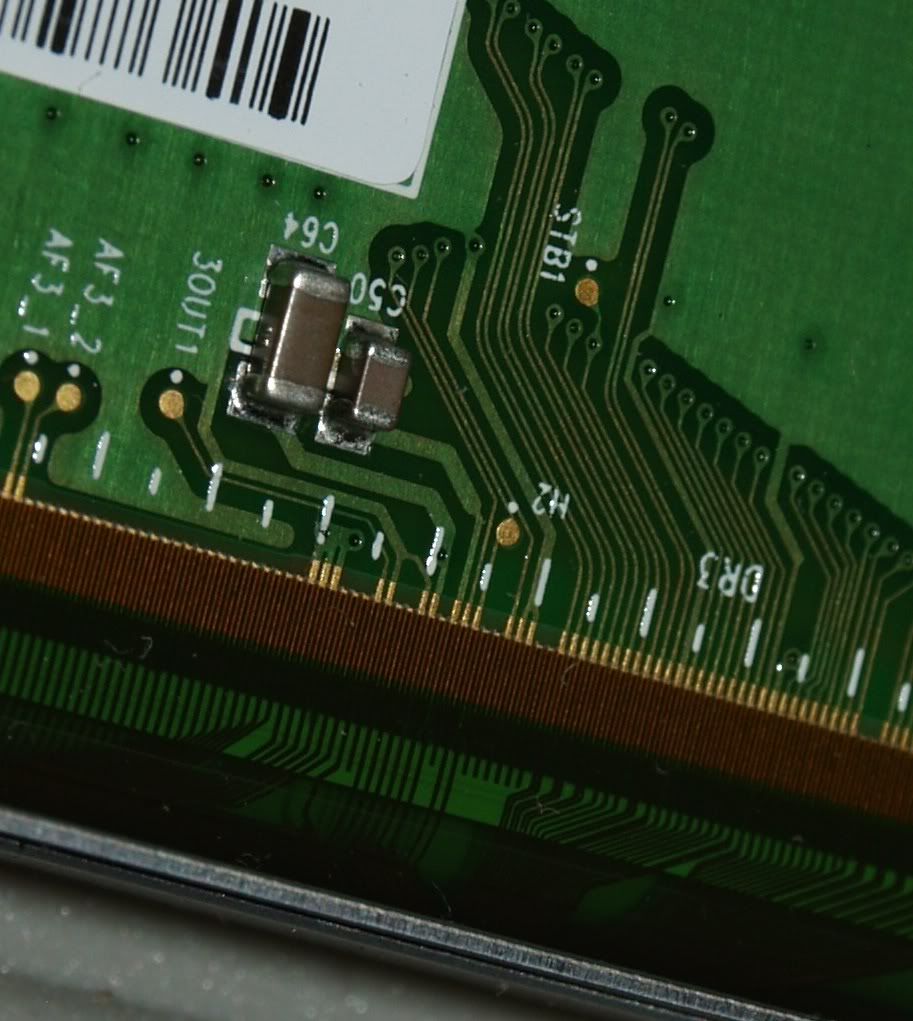 Those are like, 0.05 mm wide. Capacitor pictured fits under your fingernail. How do they make them ?