Joined

Mar 25, 2008
Messages

897
Points

0
As I'm usually irritated with all those wavelength-rainbow images floating around which claim to depict wavelengths, but actually don't, and because I also notice a lot of people think 635nm is orange, I decided to create my own.
I created is image myself using a custom Java application and raw data from CIE 1931 2-degree records, interpolated at 1nm intervals, and converted to be represented with the color gamut of typical computer monitors (gamma=2).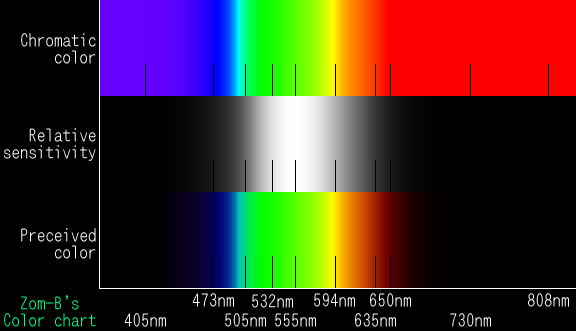 The intensity of the colors in the bottom chart is also not numerically representative (the middle one is), because I changed it to reflect perceived brightness a little better.
(note that 405nm blu-ray is about 1400 times less intense than 532nm green, and the pc only knows 256 brightness levels, so it shows up as black)