CNI manufactured PGL-III-C 532: 400mW model
Follow up Re-review
This is a brief re-review of my PGL-III. I thought it would be useful to have a long-term performance assessment of some of the higher power units available. Also, I had some unused video footage I wanted to share.
I received the laser from Glenn (CNI GB) on the 22nd of August.
The original review results are here:
http://laserpointerforums.com/f52/pgl-iii-c-400mw-43029.html
First power test :
Mean Peak power: 615mW Low: 582mW, High: 687mW
Mean Avg. power: 530mW Low: 486mW, High: 577mW
Updated power test (as of Oct. 01 2009):
Mean Peak power: 751mW Low: 699mW, High: 816mW
Mean Avg. power: 635mW Low: 598mW, High: 680mW
Highest Peak: 816mW Yes… Eight Hundred and Sixteen milliWatts.
These power measurements are the results from recording 8 periodic measurements throughout 4 weeks and averaging the results. Power test duration for each measurement was 90 seconds with 15 second "warm up" in 75 deg. Fahrenheit room temperature. My USB adapter is busted so I can't get graphs from my Laserbee… It usually holds steady at 690-730mW for 10-15 seconds or so then settles between 500-650mW.
The beam starts out in a sloppy TEM mode (close to TEM10) but as power stabilizes the beam makes a nice, clean dot. With cooler ambient temperature, the beam maintains TEM00, but in warmer conditions the beam gets a little messy again, but never splits, and power doesn't drop.
I usually run it for 1-2 minutes continuously with no heat issues. The heat-sink does a good job of keeping it cool.
There is no splash- the aperture shutter keeps dust out and the lens clean.
Divergence is good. I measured over a distance of 58 feet… I calculated 0.8mRad.
The power seems to have increased since I first tested it… not sure why, but I don't mind.
This unit could have been sold as a 500mW unit (hell, maybe even a 600) but I got it for an exceptional price. I don't think there is any other portable laser in this size (that means excluding the Herc) capable of sustaining this kind of power. This is a MONSTER of a laser. It still continues to impress me and everyone that sees it.
I will probably do another review of this laser at or near the end of the 6 month warranty.
On to the fun part…
Video follows.
And you know what they say… A beam-shot is worth a thousand words…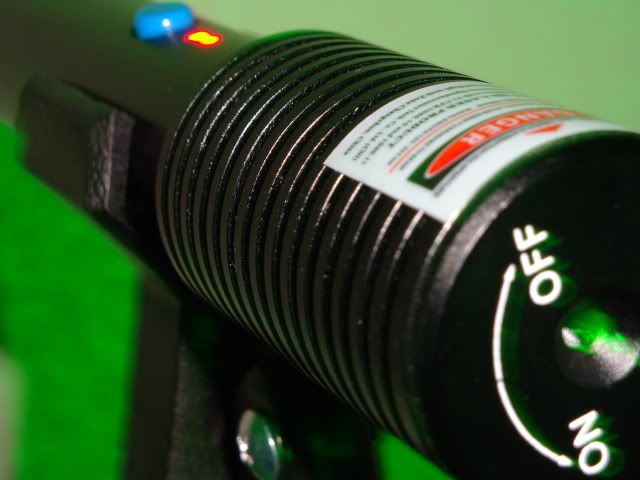 Oh... By the way, I never use smoke/fog in my photos other than what is already present in the air from burnt materials... which still aint much.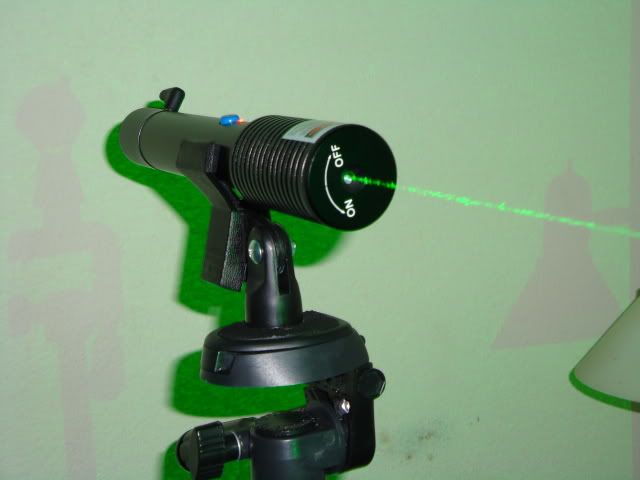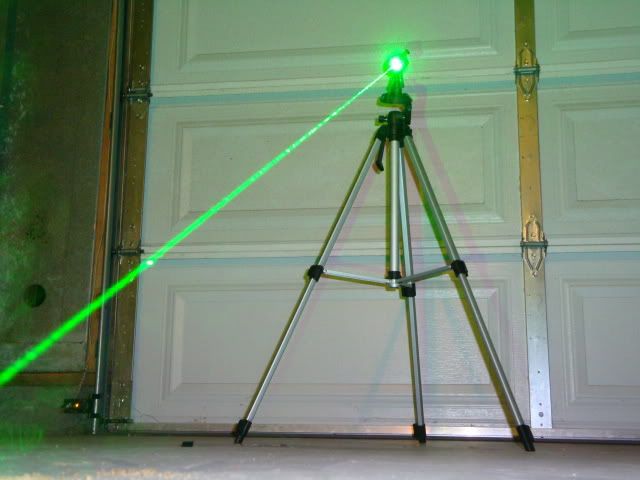 VIDEOS:
Click image for video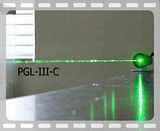 Crappy youtube version:
YouTube - 500mW Green Laser
EDIT:
Another video with LG 10X beam expander-
EDIT:
NEW Power Test: 796mW peak... Almost 800mW.
Sorry for the short video, I had to run and grab the camera once I saw the output start to climb... by the time I got back the output was settling already... This was at the end of a 2 min power test. The laser stayed at 730mW -760mW for a full ~20 seconds, then climbed to almost 800mW!
This is the highest peak I've gotten on camera. As stated above, the highest peak I've witnessed is 816mW.
YouTube - 500mW Green Laser Output Test
Last edited: