Joined

Sep 16, 2007
Messages

3,411
Points

83
I received this laser shortly after placing my order. I originally planned on taking this laser apart, making some improvements, and then selling it at cost - just so I could have the pleasure of reviewing and modifying one of these. However, now that I have it in hand, I actually think I'll hold on to this one at least a little longer than I planned.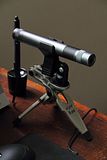 Appearance and construction:
The body of the laser is grey anodized aluminum. The finish is actually very nice and the fit of all the parts is good (but not perfect). The battery compartment piece is actually a noticeably different shade of grey, but I don't think it detracts too much from the aesthetics.
The threads are well machined and the double o-rings at all the joints are well lubricated. One thing I actually dislike about the laser is that the tail-cap clicky is covered by an orange silicone cap. I would much prefer the GITD green ones. I will have to swap that out later. The knurling on the aperture is clean.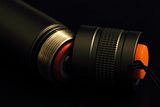 The laser is very lightweight which reflects the all aluminum construction. The size is "medium." For the power level it is certainly well balanced. I may have to modify and transplant the guts into a more compact housing just for personal preferences.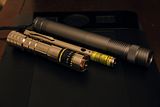 Functionality and Performance:
Another thing I would pick on is that the optics are not AR coated. This means that one of my modifications will have to be replacing the glass for better transmission.
The beam exits a few degrees from centered, a typical "defect" of most green lasers. This is something that I actually dislike very much despite the fact that I have only owned two DPSS lasers on which the beam was nearly perfectly aligned from the factory (PGL-III-C 473nm and 532nm). The misalignment is definitely forgivable since it is not
that
bad. I've seen much worse. Besides, it's an easy fix if you have some patience.
I have not done a dunk test but I am confident that this laser will have no problems keeping out moisture or even surviving under a couple meters of water. I'll update the thread after this is tested. I like the waterproofing not so I can use it under water but because I love the outdoors and I like to have one or two lasers that can stand up to the elements.
I very much like that it runs on a single 18650. They are my favorite batteries. I
only
use LarryDFW's Sanyo/Panasonic 18650s - they're the best - but a single cell charger and an Ultrafire "3200mAh" protected cell is included with the laser.
I haven't taken a good look at the driver but I assume it is a linear regulator. The laser pulls 2.05A and 4.2V from a fully charged battery.
Now, finally, on to the power...
This laser does meet specifications. I tested this laser with and without an external IR filter that blocks 99.9% 1064nm and 808nm and passes 99% 532nm.
From a cold start, the laser warms up within only a couple seconds (very good!).
The beam does fluctuate quite a bit as it stabilizes. This unit seems to perform best when relatively warm (another plus!). The power drops off usually around 2 minutes and then climbs back up and settles.
Here are the results from one power test without the IR filter. Refer to the old-fashioned stopwatch for the time since I cannot use the data logging feature of my LPM with my broken USB connector.
Here are the results with the IR filter.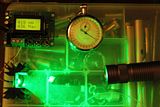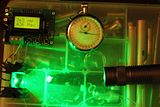 This laser does have a significant IR component so that is something to keep in mind for those of you that are unable to test for IR output. I have limited time this weekend so this is going to be the extent of the details for the power meter measurements (at least for the time being).
The IR output is not too horrible since the laser does stay above 375mW of green for the majority of the time. I think that this is satisfactory. Also, when it comes to IR output,
your mileage may vary
.
After 4 minutes of continuous operation, the body does get warm but that is to be expected. I think the O-like site recommends 60 sec on cycles but I am comfortable exceeding this. Power slowly drops after the 3 minute mark but stays in the high 300s.
This laser is focusable (although I do prefer fixed focus). The focusing action is smooth and precise. One thing I would like to point out is that the beam diameter at the aperture is quite small (which I like) so do not expect to be able to focus this laser to a fine point at distances greater than a meter or two. I'm not really into burning shit so the focus adjustment feature is inconsequential to me. All I have to say about it is that it does work.
Unfocused, then focused beam: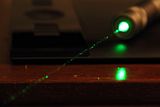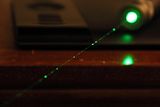 I haven't seen a high power 532nm since I sold my PGL-III-C (which was about twice the power) so this laser is pretty damn bright. It's about twice the brightness of my trusty 175mW 532nm pen and about equal to 1.5W of 445nm in low light (although not as harsh). I'll get some night time photos when I have more time.
Beam Characteristics:
The beam quality of this laser is ok. It's not terrible but it's not perfectly gaussian TEM00 either. The beam does fluctuate and shift modes a lot but this is really only noticeable when the beam is unfocused. I expected this so I am not too heart-broken. Getting high outputs from a DPSS laser in a perfectly stable TEM00 is not realistic (at least at this price point). The good part is that although the modes shift, the profile is always still pretty round with the highest power density in the center of the beam. I am not getting any split beams or square profiles. It's acceptable.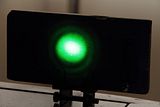 The minimum divergence is ~1.1mRad and closer to 1.2mRad depending on the mode it is operating in, which is pretty good but it will be better when I get done working on it. At aperture, the beam diameter is about 1.5mm, which is great. I love the thin, crisp beams from DPSS lasers.
In the photo above, the multi-mode beam does make some splash. The hot spot in the center is about 1cm diameter.
In sum:
This laser exceeded my expectations and I am happy about that. The build quality is solid and the power is in spec. The beam quality is relatively poor compared to my DIY pen and some other high power DPSS lasers I have owned, but it is not unacceptable. The value is a redeeming feature. It is not a perfect laser and I will make some improvements, but as it is, I am still pretty impressed.
More information will follow.
Thanks for reading.
Last edited: