Joined

Dec 14, 2020
Messages

236
Points

43
It has come to my attention that DTRs copper module is quite a reputable part that many purchase for testing laser diodes.
However, upon further testing, I have noticed a drop in performance with this module compared to a full copper module when testing laser diodes past 4A such as the NUBM47-A1 or NUBM0G (high power TO5 laser diodes)
I have decided to measure the contact surface area between the laser diode and heatsink (copper module) in both DTR and a full copper module, here are the results below.
As you can see, DTRs copper module has a contact surface area of about HALF a fully contacted laser diode module. This was probably sufficient for earlier diodes when this part was designed, but with today's higher power lasers past 8W, this module is a bit outdated.
This isn't an attempt to dethrone the great DTR, without him, this hobby and community wouldn't be the same!
Just an observation as to why some thermal tests with this module may perform lower than expected when pushing more modern diodes past 4A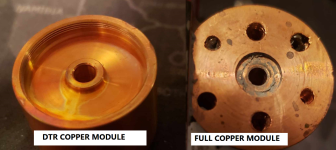 I would love to see new updated modules from DTR with more diode contact surface area!
I will post measurements of power differences from the same diode at the same currents once I receive a more reliable Sanwu LPM.