Joined

Mar 27, 2009
Messages

589
Points

0
My last 445nm build was based on microboost driver that is pretty expensive (26USD shipped to my country). I agree that build quality of microboost is great and dimensions are amazing but price is big problem for my low-budget builds.
Not only price is a problem but stability. My last build was set to 800mA and when battery goes under 4V laser starts to strobe.
Now I decided to make even cheaper 445nm laser that would work better than last one.
I always wondered if we could use cheap flashlight drivers to power up laser diodes.
And here is topic started by "SHIN" who proved that cheap flashlight drivers can be used in portable lasers.
http://laserpointerforums.com/f67/3-mode-driver-445nm-one-li-ion-55496.html
Here is driver that I used:
DealExtreme: $4.26 3W 19-Mode Universal Regulated Circuit Board for Flashlights
(costs only $4.26 shipped)
(Click on thumbnail for full size picture)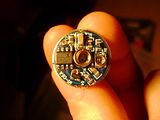 As you can see on pictures build quality is perfect and I can't find any faults.
As dummy load I used four 1N4001 silicon diodes and 2W 1ohm resistor. When driver is set to 1000mA voltage drop on dummy load is 4.55V that simulates 445nm diode.
After adjusting pot to achieve 1000mA on high power mode here are current measurements for medium and low power mods.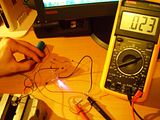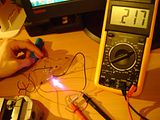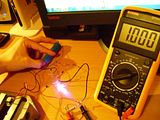 low-23mA, med-217mA, high-1000mA
The thing that worried me the most was "voltage spikes". Before I hooked up driver to diode I soldered big 330uF tantalum capacitor and two SMD capacitors (10 and 3.3uF) directly on diode.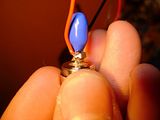 Three capacitors soldered directly on diode and few capacitors on driver should definitely protect diode from voltage spikes.
When we have diodes running on over 1A then we must be sure to take away all heat from diode. Arctic Silver 5 (thermal grease) is a perfect for this application. Thermal conductance of this thermal grease is 350,000W/m2 °C that is noticeably better than most thermal greases on market.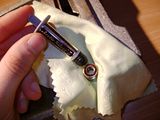 Another thing that worried me was "free space" to put driver somewhere inside UF 501B host. As I don't have a lot of tools to modify heatsink/host I had to do everything just by using emery paper and rasp
(I wish I had lathe or 16mm drill bit)
It took me about 2 hours to adjust driver pill. However, efforts have paid off.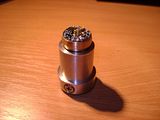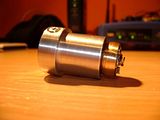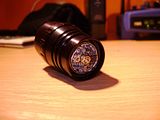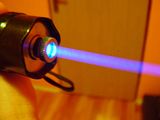 I invested less money to make this laser and results are very satisfying.
Many modes make this laser more interesting and more useful.
Now I can extend duty cycle by using low power mode or improve burning capabilities by switching to high-mode. Or I can use medium-mode for regular use. There are a lot of "strobe" modes that are useless. Only strobe mode that I like is fast-strobe mode. It would be better if this driver is only 4-mode. There's even a mode which makes a flash every 10 seconds or so, serves no special purpose except showing off.
Switching modes can be tricky. Sometimes driver doesn't react to switch signals. It takes some time to get used to.
Driver stability is amazing. Every mode works stable and I can't notice any brightness variations as I could notice in my last build that used microboost. When we say "cheap boost driver" it associate us to ineffective drivers that swallows many amps and generates a lot of heat. But in my case it isn't true. Driver stays only gently warm. Only component that generates heat is coil (not much heat) but I solved that problem by heat sinking coil on driver pill.
To measure efficiency I used DMM. In high-mode I measured 3.3A input current that is pretty high. But problem was in DMMs internal resistance. Resistance was high and voltage drop on DMM was 1.5V that results very low voltage on driver (less than 2.5V).
Then I tried with another DMM that makes 0.5V voltage drop and measured input current of 1.85-2A. That is still not accurate measurement because even small voltage drop can cause dramatically increase of current. If anyone knows any other solution to measure input current please let me know.
At the end... video that shows mode switching...
I hope this helps to others who plan to make cheap but high quality builds.
Last edited: