Ok so this is the review for the 150 mW blu ray pen O-like sells. Link is here
http://o-like.com/b2b_cpinfo.asp?id=1067
Im not the reviewer type, but I'll try
Shipping
Ordered October 13th, Arrived October 19th. Very fast shipping I am verry happy
Packaging
The laser just came in a small padded envelop wrapped really well. Standard stuff.
Looks
The laser looks well made. The threading on the end where you uncap it to put batteries in is kind of hard and gets stuck halfway sometimes. The threading on the focusing lens is pretty good though. The laser host looks shinier than the picture on the site. It is nice and small, it is also kind of heavy so that makes it feel better and not cheap.
Performance
Performance is good. It lights matches, burns plastic, and pretty much smokes everything I point it at. It gets warm rather fast, but thats ok since I don't leave it on for too long. I dont have a powermeter so I have no way of measuring power output. If I had to guess I would say somewhere around 150mW. It gives me a headache when I use it too much
.
Please note that I didnt have any fresh batteries so I used a pair I had laying around.
Overall I would have to say that its a good price for a blu ray pen for those of us with no patience or skill to DIY. Its well made and performs good.
Pictures! My sisters camera can take way better pictures, but unfortunately I am Camera retarded, but I tried my best. Ill post some beamshots later.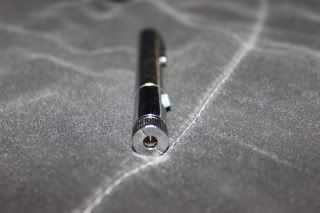 Last edited: