Joined

Aug 20, 2008
Messages

711
Points

0
http://www.budgetgadgets.com/powerful-beam-laser-sight-pointer-p-3612.html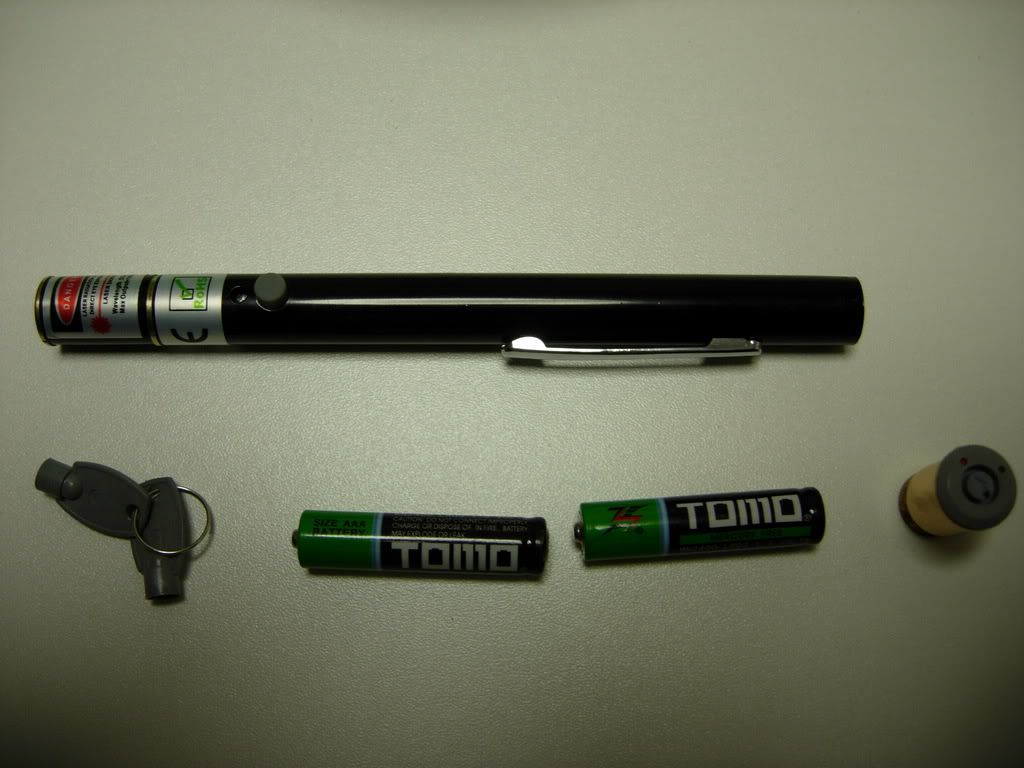 I placed an order for the 100mW red pen after reading Styro's BG-50 greenie review. It appeared to be a SKY lasers unit because of the very similar labels, keyswitch, Oversized button, Etc. Unfortunately, I placed my order just shy of Chinese new Years and my order was put on hold for weeks; I just received it today.
This laser came wrapped in about 5 feet of foam sheets inside a bubble mailer. A box was available but it was an extra $3.
Upon inspection of the laser, it turns out to be a SKY lasers clone of somewhat decent quality. The aperture is hideously larger(6-7mm dia) than the real SKY laser pointers and had some blemishes; not too bad though. Believe it or not but the key switch actually works properly! The indicator LED seems to work too.
Picture of the hideously large aperture:
As for the beam quality itself, it isn't the best. It dot profile seems to be similar to that of the crappy "bullet pointers" commonly available. The dot itself is about 3-5mm depending how you look at it. The divergence is pretty good too, the dot is pretty tight at about 25 feet(1-2mm spread).
As for the power, I don't have a LPM anymore but I can safely say that this unit is probably putting out at least 80-100mW. It will not light matches or pop balloons without optics. The beam is very faintly visible in complete darkness.
Something also worth mentioning is that this laser doesn't come with any documentation or instructions. The batteries go positive side in. The tailcap appears to have a small nub to accommodate the positive pip of a battery, but this is misleading! Do not be fooled into thinking the positive goes onto the tailcap.
Bottomline, It's a decently made clone of the SKY lasers. If you intend to use it as a burner, you are better off getting a dilda or something. This thing is better suited for pointing and general "screwing around with". It's also apparently FDA certified too(appears to have most of the safety features required).
Pic of the labels:
Pic of the keyswitch:
The output indicator actually works!:
Hope this review helps...