Joined

Jun 30, 2015
Messages

89
Points

0
Hello, This is my first review, and first build. I hope you like it! I know, it's a cliche build, but its my first, so I decided to review it. :yh:
I built 2 of the same lasers. One for me and one for a friend. They are ~1.5 watts each.
I do not have a lpm yet, but plan on getting one. My wallet is crying for help right now
Anyways, they use these parts/components:
Diode: M140
Lens: 3 Element
Host: C6
Driver current: 1.5A
Heatsink: Blue (fit for c6)
Battery: 2x 16340
Duty Cycle: 90 seconds
A big thanks goes out to Survival Laser and DTR. Their packages shipped in 2-3 days!!!
I used tap tape to help the lens stay more still. It works like a charm.
I am estimating the output based on DTR's M140 testing, and how 3 element lenses have about a 30% loss compared to G2.
Pics!
Assembly:
Dot at 6 feet: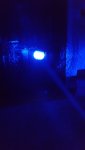 Beamshots (no fog)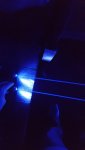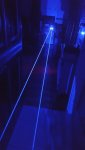 Will be adding night beam shots tonight!
Feel free to give suggestions, and tell me if I missed something. :beer: